REVOSIMA's update on November 30, 2019, showed the continuous seismo-volcanic activity at a newly-forming submarine volcano near Mayotte island from October 16 to 30, including 186 localized earthquakes and an average of 12 tremors per day– one of which was M3 or greater, with a magnitude of 3.8.
The fissure has been causing crisis ever since earthquake swarms were felt in May 2018. The source was confirmed to be a new underwater volcano in May 2019. On November 21, 2019, it was discovered that the incessant eruptions may contaminate Petite Terre's Lake Dziani.
Over a period of 11 months from July 2018– the start of surface deformations in Mayotte– to June 2019, the eruptive lava flow is around 150 to 200 cubic meters per second.
Since the volcanic edifice was discovered, three new remote exit points have been discerned that have produced the following: about 0.2 km3 (0.05 mi3) of lava in 28 days from May to June 2018 for an average minimum flow of about 83 m3 per second (2 930 ft3) in the south; about 0.3 km3 (0.07 mi3) of lava in 44 days between June to July 2019 for an average minimum flow of 79 m3 (2 790 ft3) per second in the west; and about 0.08 km3 (0.02 mi3) of lava in 20 days between July and August 2019 for an average minimum flow of about 44 m3 (1 553 ft3) per second in the north.
The eruptive flows remain high, and the volumes and flows, particularly at the start of the crisis, are unusual. Given the unpredictability, they are generally the highest observed on an effusive volcano since the 1783 Laki explosion in Iceland, whose average eruptive flow had been calculated approximately 694 m3 (24 500 ft3) per second over 245 days of the eruption.
Mayotte: Soil movements recorded on Mayotte GPS stations during the last 3 months from 1-09-2019 to 30-11-2019. The horizontal displacements are represented in vectorial form and the vertical displacements are indicated by the numerical values ​​in color. Image credit: REVOSIMA
The vectors of horizontal displacements since August 2019 point more towards the north. This resulted in a relative displacement of the simple isotropic pressure source, about 20 to 25 km (12 to 15 miles) more to the northwest, compared to the start of the year. Experts have then formulated several hypotheses.
For the past three months, the best single model that can be responsible for these displacements would be a source of localized deflation between 26 and 73 km (16 and 45 miles) east of Mayotte, and a depth between 45 and 75 km (28 and 47 miles) at 95% probability.
The flows associated with the best models over the last 15 days would be between -30 to -80 cubic meters per second.
Image credit: BRGM
"Note that in the case of a source in deflation, the evolutions of [the] position of the source towards more superficial depths do not translate a source migration but could be linked to the effect of the closure of a conduit, being gradually from the bottom up," according to the bulletin.
"More complex models, under evaluation, suggest that several sources of pressure (in deflation and inflation), geometry and variable volume, located at different depths, could also explain the deformations observed over different periods of time."
The dominant source, nevertheless, remains a source of deflation and such confirm that transfers of magmatic fluids are still ongoing in-depth and they seem to circulate between 20 to 60 km (12 to 37 miles) deep.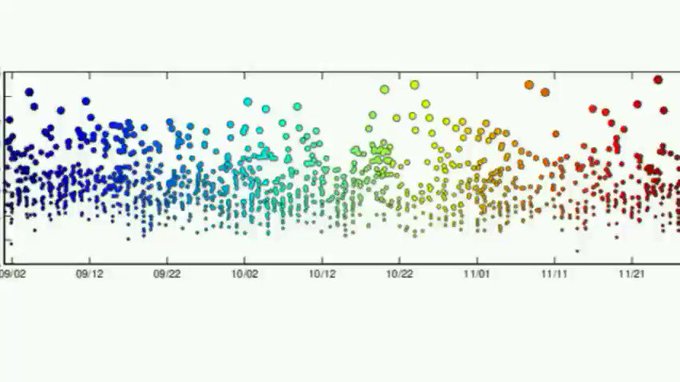 Geological background
Mayotte Island in the Mozambique Channel between the northern tip of Madagascar and the eastern coast of Africa consists of two volcanoes with diverse geochemistry that were active from the Pliocene to the Holocene. Lavas on the NE were active from about 4.7 to 1.4 million years and on the south from about 7.7 to 2.7 million years.
Mafic activity resumed on the north from about 2.9 to 1.2 million years and on the south from about 2 to 1.5 million years. Morphologically youthful-looking maars are present on Mayotte Island, and Zinke et al. (2003) found several pumice layers of Holocene age in gravity cores on the barrier reef-lagoon complex at Mayotte. (GVP)
Featured image credit: REVOSIMA
Original Article:https://watchers.news/2019/12/04/submarine-volcano-near-mayotte-shows-continuous-activity-186-localized-tremors-recorded-in-two-weeks/
Read More:Abnormal Earthquake Swarm Off African Coast Has Many Full Of Stress And Anxiety
Read More:Volcano Forming Off African Coast Near Mayotte
Read More:Something Strange Is Happening Inside Earth's Core
Read More:Lava-Like Substance bubbles To The Surface In Africa, Causing Fires, Injuries- Mystery 'Volcano' Has Geologists Scratching Their Heads
Read More:Molten Lava Blob Not Only Present In Pacific, But Now Also Reported Under The African Continent; The Implications Are Clear And Life Ending
Read More:Over 100 Volcanoes On The Cusp Of Eruption Around The Globe; Do You Understand How Disturbed Earth's Core Must Be?