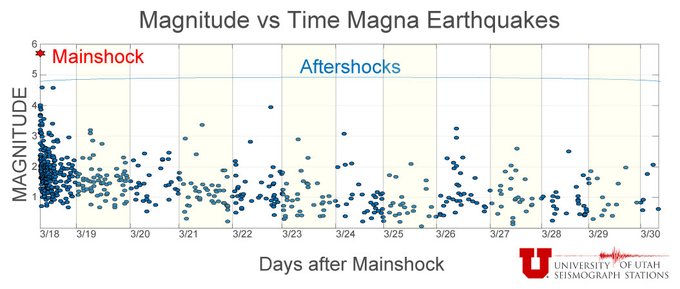 More than 600 earthquakes have hit across Utah and surrounding areas after a 5.7-magnitude quake struck near Salt Lake City about two weeks ago, according to University of Utah Seismograph Stations.
As of Monday morning, the University of Utah Seismograph Stations, or UUSS, recorded 658 earthquakes as part of a series of aftershocks.
On March 18, a 5.7-magnitude earthquake struck Magna, west of Salt Lake City, McClatchy News reported. The quake was felt from Idaho to California, according to McClatchy News.
"I know the last thing we need right now is an earthquake, but here we are, and it sounds like aftershocks are likely," Salt Lake City Mayor Erin Mendenhall said at the time on Twitter. "The city is assessing the situation now and I'll circle back with an update when I have it. Be safe."
The initial earthquake was the largest in Utah since 1992, McClatchy News reported.
Over the next 12 days, as many as 658 earthquakes were recorded, the UUSS said.
Three of those quakes were in the magnitude-4 range, 20 at the 3-range and 122 with a magnitude of 2, the agency reported.
Earthquakes between 2.5 and 5.4 magnitudes are "often felt, but only cause minor damage," according to Michigan Technological University. Anything less than 2.5 is usually not felt, but can be recorded by seismograph.