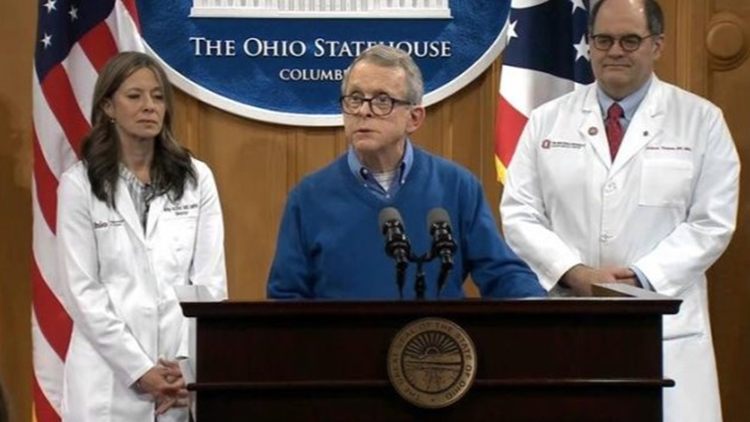 Ohio Governor Mike DeWine has declared a state of emergency after three people from Cuyahoga County tested positive for COVID-19.
CLEVELAND — Ohio Governor Mike DeWine has confirmed that there are now three cases of coronavirus in the state. All three of the cases are from Cuyahoga County.
DeWine has declared a state of emergency in the state, as "a legal necessity that allows state departments and agencies to better coordinate in their response."
According to DeWine, all three patients who tested positive for COVID-19 are in their mid-50s. Two are a married couple who were recently on a cruise on the Nile River, while the other attended a conference in Washington D.C.
All three, as well as six close contacts to the patients, have been quarantined at home. Seniors and people with chronic illnesses like heart disease and diabetes are believed to be the people most at risk, according to Cuyahoga County Board of Health commissioner Terry Allan.
Cleveland mayor Frank Jackson said at a press conference on Monday no major events in the city are expected to be cancelled as a result of the three cases.
"It's important for us to take aggressive action to protect Ohioans, and therefore, I have declared a state of emergency in #Ohio," DeWine tweeted on social media as he made his announcement.
DeWine added that notification to the individuals who have tested positive is in progress.
Those with questions or concerns regarding the coronavirus in Ohio are asked to contact the department of health at 1-833-4ASKODH (1-833-427-5634).
The state will release more information once notification occurs.
Original Article:https://www.wkyc.com/article/news/health/coronavirus/state-of-ohio-confirms-three-cases-of-coronavirus/95-3d56f37b-dfda-4daa-8baa-3d6547c2df63