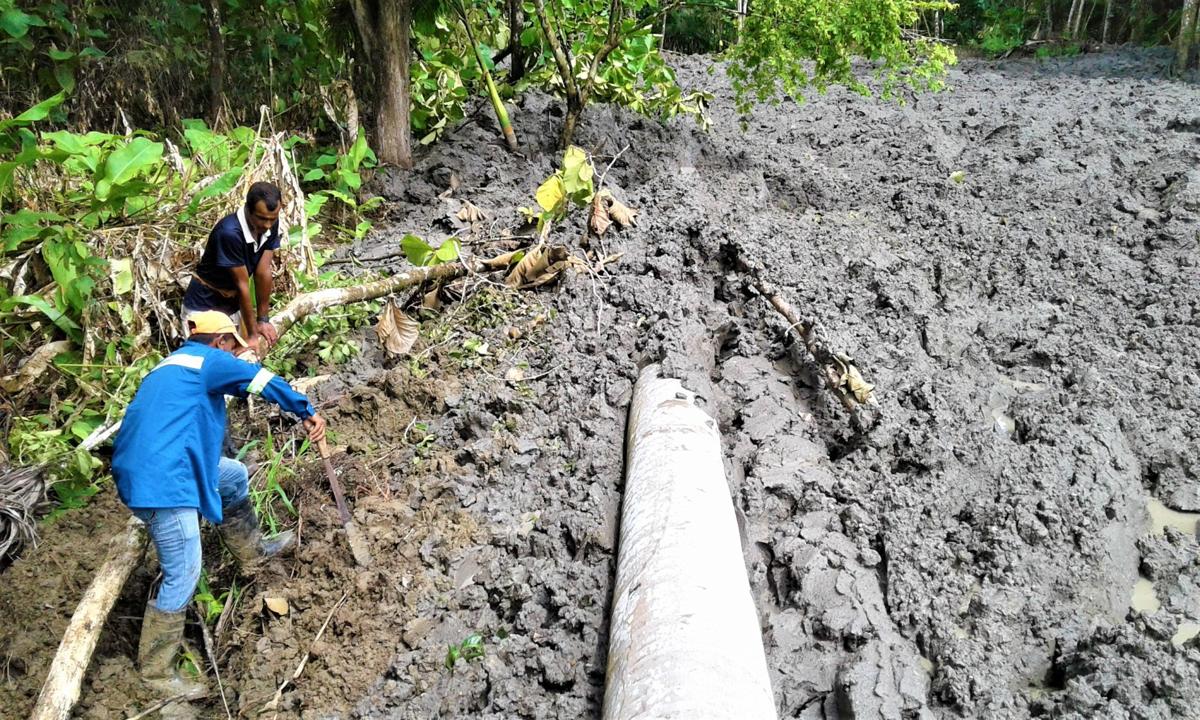 NEAR the village of Brickfield, in Trinidad's rural interior, there is a mentally-challenged woman who walks the main road most days, talking to herself and to anyone who has an hour, or ten, to spare.
Last week, she stopped at a roadside carat shed outside the Agriculture Ministry's Forestry Division office and told an incredulous story to the workers.
It was about what she had heard coming from deep in the bush while walking along a lonely stretch one day sometime last week.
There was an explosion in the forest, she told them, and a sound like thunder and crackling of falling trees. Birds flew from the direction of the sound, she said. Then there was silence.
The forest workers suspected they knew what was the source of the disturbance.
So last Friday, the gang of seven, whose job it is maintain vast acreages of teak around Brickfield, went in search.
With chain saws and cutlasses, they cut a path into the woods off Colonzo Trace, and walked more than a kilometre before abandoning the effort. All they found was deep bush, and too many snakes to count, according to Forestry worker Suresh Roopnarine.
But there was still some daylight left, and curiosity got the better of them.
So they decided to clear an old timber access road, and chopped through the bush for about two kilometres before coming upon what the woman had heard.
A mud volcano had erupted into life, tearing down the forest trees, and clearing an area of at least two acres.
In the midst of greenery, there is now a roiling lake of mud and tree trunks.
And it continues to throw up new deposits, slowly expanding outward, the Express noted during a visit on Sunday.
There are no houses nearby. The nearest resident, living about three kilometres from the site, said he had no idea it had happened and had no plan to visit "a big hole in the ground".
The damage done was to the forest trees, many pushed over by the mud flow, others snapped like twigs.
And it appears that the eruption has not been officially reported to the University of The West Indies (The UWI) Seismic Research Centre, or the Geological Society of Trinidad and Tobago, both of which collect data on this type of activity.
The Seismic Research Centre said the last significant quantity recorded in south Trinidad was on July 25, at 6.53 p.m., when there was a magnitude 3.4 quake.
The new mud volcano is located about eight kilometres east of the Piparo Mud Volcano, which erupted in February 1997, burying the roadway, homes, and vehicles.
The last time there was an eruption of this magnitude was February 2018, when dormant Devil's Woodyard mud volcano belched to life and disgorged mud 100 metres wide and six feet deep.
Original Article:https://www.trinidadexpress.com/news/local/new-mud-volcano-explodes-into-life/article_51ae49be-b250-11e9-b2d6-63cbe4cd2bb1.html
Read More:'Upward-Moving Warm Structure Beneath Bermuda': With Recent Volcanic Tumult- Could Ancient Bermuda Volcano Reawaken?