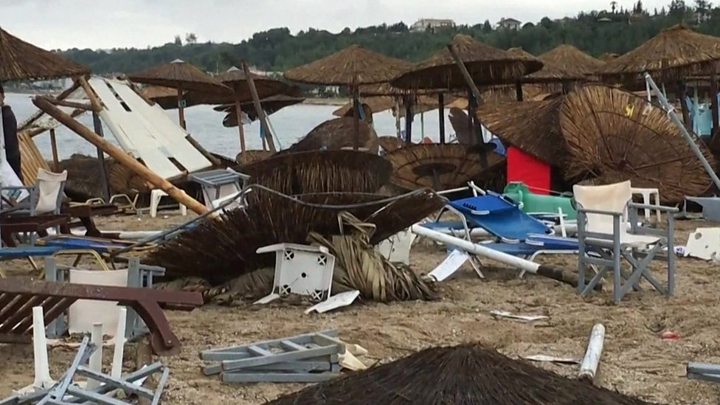 Six people are dead and dozens more injured after a short but intense storm flipped cars and destroyed buildings in northern Greece.
Panic reigned in the Halkidiki region of Greece late Wednesday as the storm, complete with fierce winds and hail, made landfall along beaches popular with tourists. Haris Lazaridis, owner of a local tavern where two people were killed, described the scene to AFP.
"There was panic, people were howling and running to hide inside," Lazaridis said. "For five minutes it was hellish."
A government spokesman said winds clocked in at around 62 mph, but only lasted for a terrifying 20 minutes. A total of 23 people are still hospitalized after the event and officials have declared a state of emergency for the region, with at least 140 rescue workers involved in the operation.
"I want to express my sorrow on behalf of all … We mourn for the loss of these souls," Citizen Protection Minister Michalis Chrisochoidis said. "We are in solidarity with their relatives, with the people who have lost their families."
Original Article:https://www.wnd.com/2019/07/6-tourists-die-in-freak-storm-in-greece/?cat_orig=world
Read More:Weather Patterns Out Of Control: Guadalajara Buried Under Six Feet Of Hail