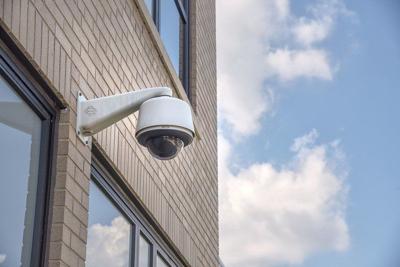 Lockport City School District will begin testing its new facial and object recognition system next week, Superintendent Michelle Bradley announced Tuesday.
Bradley said the district will begin the "initial implementation phase" on Monday. This will involve testing the facial and object recognition system to make any necessary adjustments. District officials will be looking at camera angles and lighting and doing training.
In addition, district officials will engage in conversations with local law enforcement to coordinate responses in the event the system detects an issue that requires the issuance of an alert.
"We'll just work through those things," Bradley said.
The cameras and software suite were installed this past September, according to Bradley. Old cameras were replaced and new ones were added.
The district used $1.4 million of the $4.2 million allocated to it through New York's Smart Schools Bond Act to install one of the first facial and object security surveillance systems in an American school. The district's system will rely on the Aegis software suite, created by Canadian-based SN Technologies. The software works by using a database of individuals and sending an alert to district personnel when a flagged person is detected on school property. The software reportedly also will detect 10 types of guns.
The district's security plan has attracted attention from the New York Civil Liberties Union, which last year sent a letter to the New York State Department of Education, asking officials there to halt the project. NYCLU has also asked the state legislature to do the same.
State Assembly Member Monica Wallace has introduced a bill that, if passed, would effectively force Lockport to stop using the system. Her bill also asks the state education department to perform a study on facial recognition technology in schools.
Bradley understands the system is somewhat controversial but noted, "it's not something that is prohibited right now for us."
"I would say for the Lockport City School District, while it's controversial, it's not prohibited and the most important thing is we believe we've established boundaries in the use of this," Bradley said. "We have a policy that intends to protect privacy. We have identified a small group of individuals who will be placed in a database."
After NYCLU expressed its concerns, the state education department started to work with Lockport school administrators to ensure privacy concerns were addressed.
Bradley said administrators' last communication with state ed was in February, when they discussed revisions to a privacy policy that was approved by the Board of Education in December 2018. She said state ed officials were made aware in early May of the district's intention to begin testing the system, and they did not respond.
District resident Jim Shultz, a persistent critic of the surveillance system, blasted district officials Tuesday, saying, "the school district keeps piling one foolish decision on top of another."
"First, they wasted almost three million on a high tech system that won't keep our kids any safer and now they are turning our kids into lab rats in a high-tech experiment in privacy violation without having official state permission to do that," Shultz said.
Stefanie Coyle, education counsel for NYCLU, expressed similar disappointment in the development.
"Facial recognition technology does little to protect students and poses serious risks for both privacy and civil rights," Coyle said. "It is a shame that Lockport school administrators have decided to deploy this technology regardless of these concerns, making their students, parents and faculty into guinea pigs to test the use of this software in school contexts. We continue to believe that this type of invasive and inaccurate technology does not belong in schools."
The district sent a letter announcing its plans to start testing the system to employees on May 23. Parents were notified in a letter that was expected to reach mailboxes in the district as early as Tuesday.
Robert LiPuma, the district director of technology, said only one test was conducted so far at the request of the Board of Education. He said the test was conducted using a trustee and a district teacher who are twins. The test "went really well" with one incident falsely identifying the two and then a second camera correcting the mistake, he said.
"We did have one incident where the board member came in and was identified on the first camera as the teacher and then it made a mistake, but it was an odd angle picture," LiPuma said. "But the second camera picked her up as who she actually was. It was actually a good test for me."
During this "initial implementation phase," LiPuma said the district will begin to put more people into the database, go through every single door and make sure an alert pops up on whoever is in the database, and test several different types of alerts. He noted that a gun alert is the only one about which law enforcement would be notified, so he wants to have that coordinated with a test.
District administrators feel the system will allow them to help make Lockport schools more secure. Bradley noted "acts of violence in our schools continue," as she showed numerous articles about violence in schools. The school board continues to make security a priority, she added; the members are looking at "the human side of violence" in schools.
"In addition to all these things that we're doing to protect our buildings, we're also providing the personnel to get into the minds of students and children," Bradley said. "To help them manage trauma that they've been exposed to, to help them deal with difficult times they are having whether at home or in schools."
Administrators hope to make the system "live" by the 2019-2020 school year. LiPuma says they need to test out the alerts first, in "the initial implementation phase."
"We're not going to go live until we feel we can responsibly do that," he said.
The Board of Education adopted a policy this past December outlining how the Aegis system will be governed.
According to the policy, those expected to be in the database may include: students who have been suspended, staff suspended or on administrative leave, level 2 and level 3 sex offenders, any person who has been notified that they may not be on district property, anyone prohibited from entering district property by court order or anyone believed to pose a threat.
Original Article:https://www.lockportjournal.com/news/local_news/lockport-to-test-new-school-safety-system-next-week/article_159eff1c-74f1-5490-83ac-1ba1c5123ab9.html
Read More:World Wide Surveillance System Being Created Illegally By Collecting Millions Of Photos Available Online Without Permission
Read More:United Nations 2030 Agenda: A Blueprint For Global Enslavement In The Beast System