Another atmospheric river event is pummeling California with feet of snow in the Sierra Nevada Mountains, shattering February snow records at some ski resorts while also triggering flooding, rockslides and mudslides in lower elevations.
Heavy snow continues to pound the Sierra, generally above 5,000 feet, while rain persists in the lower elevations of Northern California.
Gusty winds are also expected into this evening in some locations.
(INTERACTIVE: Current Radar/Satellite Loop)
Tuesday night into early Wednesday, numerous roadways were flooded in Northern California, including the Bay area. Several mudslides and rockslides were also reported, as were downed trees and power lines.
Venado, California, measured 20.48 inches of rainfall through early Wednesday.
(LATEST: Flooding, Mudslides, Travel Impacts)
As of Wednesday morning, 55 inches of snow fell in Boreal, with 54 inches at Sugar Bowl Ski.
The combination of heavy snow and high winds prompted Interstate 80 to shut down overnight Monday night into Tuesday.
Several other routes into the Sierra were shut down Tuesday as well, according to Caltrans.
Many Sierra ski locations reported at least a foot of snow in 24 hours ending Tuesday morning. Caltrans reported 40 inches of snow had fallen in 24 hours at Donner Pass.
Despite all the snow, it was too windy to ski at some Sierra resorts. Lifts were on hold at Mammoth Mountain, and some lifts were closed Monday at Heavenly.
Strong winds have also been blasting parts of Northern California and Nevada. Winds gusted between 50 and 60 mph in Reno, Nevada, on Tuesday.
Rain soaked the lower elevations of Northern California on Tuesday, mainly north of Interstate 80, and that has triggered flooding and some landslides.
A number of mudslides shut down State Highway 49 in multiple locations. Just over 5 inches of rain was reported in Quincy, California, about 35 miles east-northeast of the fire-scarred town of Paradise.
Flooding was also reported in parts of Marin County, California, and the Napa Valley. All access roads into Point Reyes National Seashore, north of San Francisco, were flooded Tuesday morning.
Forecast
This latest pounding is being triggered by a plume of moisture known as an atmospheric river being piped into the state by an area of low pressure moving in from the Pacific Ocean.
Atmospheric river events are now classified somewhat analogous to hurricanes. This atmospheric river is being categorized as a Category 3 event, meaning it's not only beneficial for the state's water supply, but also hazardous in terms of threats from floods and landslides.
The heaviest Sierra snow and low-elevation rain should fall through Wednesday morning. However, Sierra snow, and at least some low-elevation showers, should linger into Wednesday night and Thursday.
Those final snow totals are likely to be impressive, once again measured in feet.
Monday afternoon, the National Weather Service in Sacramento said parts of the northern Sierra could see up to 10 feet of snow into Wednesday.
In general, anywhere from 36 to 80 inches of storm-total snowfall was expected in the Sierra through Wednesday above 4,500 feet in elevation, NWS-Sacramento said.
This combination of prolific snow and strong winds may lead to tree damage and power outages. Combined with the impressive snowpack already on the ground, it could also lead to impassable roads, side streets and even driveways. Snow slides into homes or roof collapses are possible in a few areas.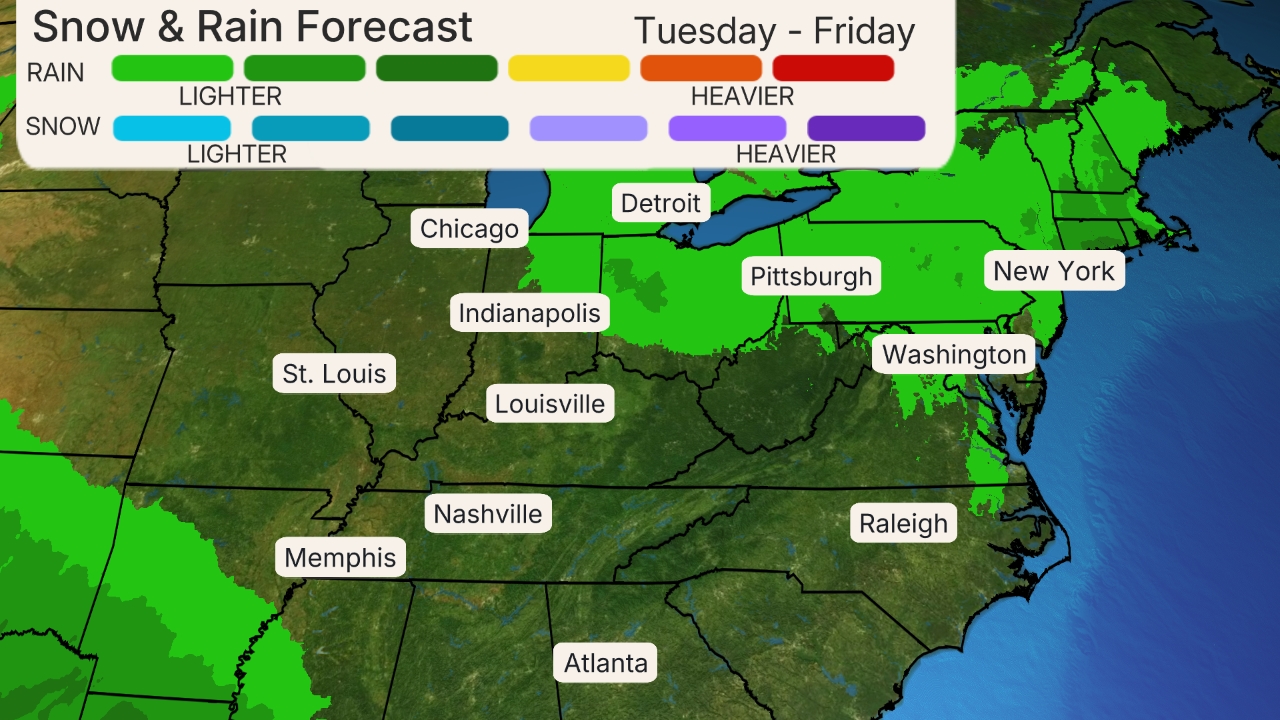 Additional rainfall continues the concern for flooding into Wednesday. In addition, runoff will result in continued rises on larger rivers into Thursday.
Active Weather Pattern in the West
This round of rain and snow is just the latest in a series of storms that have impacted the West in February.
Mammoth Mountain has already clobbered its previous record-snowiest February, picking up 198 inches of snow so far this month.
Squaw Valley is likely to set its snowiest month on record, already measuring over 21 feet of snow this month before this storm kicked into gear.
Tuesday morning, a snow depth of 226.9 inches was estimated by the National Resources Conservation Service SNOTEL network at a sensor about 20 miles southwest of Truckee, California. Another sensor at Nevada's Mt. Rose Ski Area estimated a whopping 320 inches of snow cover at an elevation of 8,850 feet.
Most importantly, the Sierra is an important source of water for California when winter's snowpack melts in the dry season from late spring through early fall.
(MORE: West's Active Winter So Far Has Had a Huge Impact on Drought)
According to the California Department of Water Resources, the statewide water content of the Sierra snowpack was estimated to be 41 percent above average for Feb. 26.
Most state reservoirs were above their average levels for late February as well.
Original Article:https://weather.com/forecast/regional/news/2019-02-26-california-sierra-feet-of-snow-february-records
Read More:What Conditions Are Responsible For The 'Bomb Cyclone' Moving Across The US?