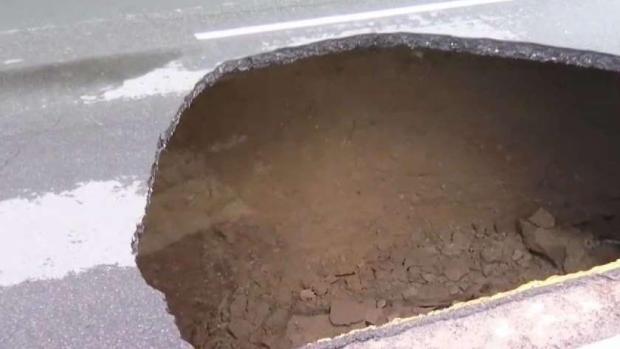 A golden retriever was reunited with his owner Wednesday after falling in a 20-foot-wide and much deeper sinkhole that formed on a Rancho Penasquitos roadway.
The dog named Ruby was walking off-leash with his owner Tuesday night when he wandered over to the 20-foot-wide and much deeper sinkhole that had formed that morning on Park Village Road in front of Park Village Elementary School, SDPD Sgt. Laurel Monreal said.
The curious dog went to investigate the hole and fell in, according to Monreal.
The San Diego Humane Society and a technical rescue team was called and the dog was eventually carried up a ladder and out of the hole with no injuries.
"She could've really gotten hurt. I was concerned that she maybe had a fractured pelvis or some injuries but right now she's walking on all fours, wagging her tail and happy to be on solid ground," Monreal said.
The sinkhole, caused by a collapse in the underlying 48-inch corrugated metal storm drain, city spokesperson Anthony Santacroce said, was also causing problems for the parents of students at Park Village Elementary School.
In a letter from the Poway Unified School District Tuesday, officials informed parents the sinkhole would affect after-school pick-up.
"We are sending this message to inform you about a large sink hole located on the westbound lanes of Park Village Road between Darkwood and the ESS driveway. As a result, these lanes are now closed to inbound traffic."
The school asked parents to consider carpooling or parking off site and walking to campus to pick up students, despite the rain.
When the sinkhole was reported at about 10:30 a.m. Tuesday, city crews blocked off one direction of Park Village Road, affecting after-school pickup for the school's students.
Crews were trying to determine if the entire street on Park Village Road needed to be blocked off, which would cause problems for residents in the neighborhood of nearly 1,000 homes who can only get in and out from that roadway.
"I'm really worried with one sinkhole and I don't know if we'll find more sinkholes in the future," nearby resident Sci Nandagopalan said. "Mother nature makes its own call we just have to be cool."
There is no word on when the road will fully reopen.
The storm drain runs parallel to the center median and was installed in the late 1980s.
The City of San Diego would request an emergency contract for repair, allowing immediate funding for a non-city contractor to repair the sinkhole, Santacroce said.
Original Article:https://www.nbcsandiego.com/news/local/Rancho-Penasquitos-Sinkhole-505370461.html
Watch More:Sinkholes: Why They Are Happening