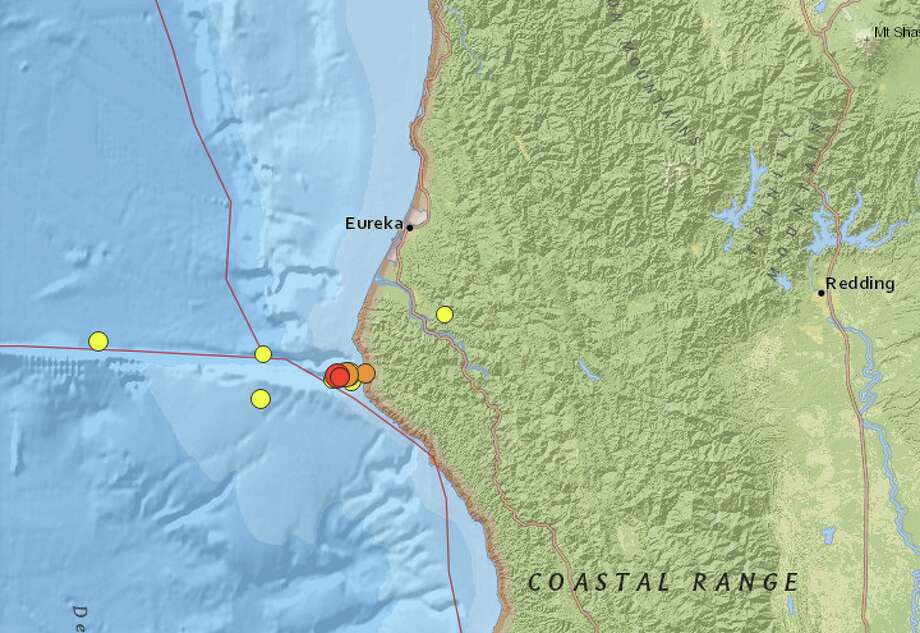 Ten earthquakes of preliminary magnitudes between 3.0 and 4.5 struck off the coast of Northern California between Saturday and Sunday, the United States Geological Survey reports.
The series of earthquakes rumbled beneath the Pacific Ocean, between 3 miles and 27 miles west of Petrolia in Humboldt County.
The first earthquake struck early Saturday morning at a magnitude of 4.3, while a second earthquake, of 3.2 magnitude, rumbled about 30 minutes later. Three additional earthquakes hit between 4:30 p.m. and 5:38 p.m. Saturday in the same area, registering magnitudes between 2.9 and 3.6, USGS reported. A 3.0-magnitude earthquake struck that night, at 11:37 p.m.
The geological activity continued into Sunday. USGS reported four earthquakes near Petrolia between 2:18 p.m. and 4:05 p.m. The earthquakes ranged in magnitude from 3.4 to 4.5.
More than 240 people, from Mendocino to McKinleyville, said they felt the 4.5-magnitude earthquake that struck Sunday at 2:18 p.m., according to the USGS's online "Felt Report" page.
There was no initial word on damage or injury resulting from the quakes. The National Weather Service office in Eureka said Sunday afternoon there was no tsunami danger.
Original Article:https://www.sfgate.com/napa-northern-california-earthquake/article/earthquakes-ten-norcal-coast-eureka-petrolia-usgs-13585870.php
Read More:Birth Pangs: Second Swarm Of Earthquakes Hits Cascadia Subduction Zone
Read More:Anomalies In Earth's Mantle At Both Ends Of The Cascadia Subduction Zone Suggest That Molten Rock From Interior Of Earth Making Mantle Bouyant
Read More:New Study Concludes Most Of California Plunged Into Sea 'Almost Instantly' Following Earthquake
Read More:Face Of USGS Resigns: 'What Good Is Scientific Knowledge If People Don't Use It?'
Read More:When Cascadia Mega-Quake Strikes It Will Send A HUGE Tidal Wave 700 Ft. High
Read More:Ring Of Fire Re-Awakening Is A Sign Of The End Of Days, Warns Rabbi