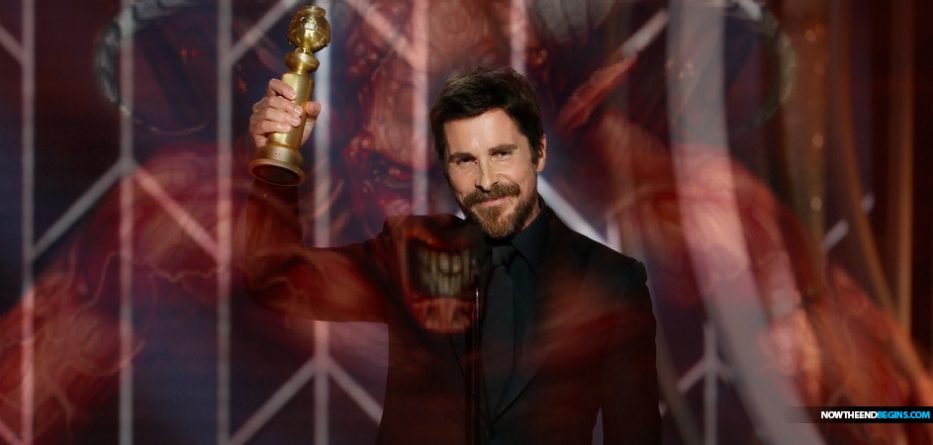 The Welsh-born thespian won the Golden Globe for best actor in a motion picture – musical or comedy for his portrayal of former Vice President Dick Cheney in "Vice" and in accepting the award, he made clear where he stands on the real-life subject.
Christian Bale, like him or hate him, is a very good actor. He prepares very intensely for the roles he plays, and it shows in the final product. But sometimes, even top-shelf actors need a little inspiration to put their performance over the top, and Bale is no exception. As he accepted his Golden Globes 'Best Actor' trophy, he thanked Satan for giving him the vision for the role.
"Ye are of your father the devil, and the lusts of your father ye will do. He was a murderer from the beginning, and abode not in the truth, because there is no truth in him. When he speaketh a lie, he speaketh of his own: for he is a liar, and the father of it." John 8:44 (KJV)
We live in ultra-polarizing times, and award shows are no longer about the awards, they are a referendum on Hollywood's never ending hatred of Republicans, Conservatives, Christians, the Bible and even God Himself. But give credit where credit is due, Hollywood is now beginning to acknowledge their pact with the Devil as the basis for their success.
Christian Bale credits Satan for inspiration on how to play Dick Cheney in 'Vice'
FROM NBC NEWS: It's a good thing for Christian Bale that the Hollywood Foreign Press Association was voting, and not Republicans. "Thank you to Satan for giving me inspiration on how to play this role," said Bale, 44.
Republican Rep. Liz Cheney of Wyoming, the former vice president's daughter, snapped back at Bale on Twitter, posting a link to the actor's 2008 arrest.
Even in thanking his director, Bale couldn't resist the chance to poke fun at Cheney — and another high-profile conservative politician.
"('Vice' director Adam McKay) said, I've got to find somebody who can be absolutely charisma free and reviled by everybody and so it's got to be Bale in it.
"I'll be cornering the market on charisma free a—-," Bale added, with the last word bleeped out by network censors. What do you think, Mitch McConnell next?"
The speech did little to dispel the criticism leveled on the biopic by conservative critics, who see the film as a two-hour, 12-minute liberal attack ad, while still largely praising Bale's performance.
"'Vice' is a cartoonishly biased film, and it took a movie that could have been compelling and turned it into a simplistic screed," Christian Toto, editor of HollywoodInToto.com told NBC News Sunday night.
"Bale's speech is icing on the cake. These award shows are not even meant to entertain anymore, they seem to be meant to scold and lecture." READ MORE
Original Article:https://www.nowtheendbegins.com/actor-christian-bale-wins-golden-globes-best-actor-for-his-portrayal-of-dick-cheney-in-vice-movie-gives-thanks-to-satan-in-acceptance-speech/
Read More:After Being Asked For Advice To Get Famous, Miley Cyrus Encourages Young Fans To 'Worship Satan'
Read More:Katy Perry Promotes Satanism
Watch More:Hollywood Stars Admit They Sold Their Souls For Fame
Read More:Lady Gaga Talks Openly Of Selling Her Soul For Fame
Read More:Hip-Hop Star Jay-Z Claims Jesus Was Invented To Control Dumb People, While Smart People Worship Satan
Read More:Satanic Band Honored At Grammys
Read More:Even Main Stream Media Acknowledges Satanic Theme At 2015 Grammys