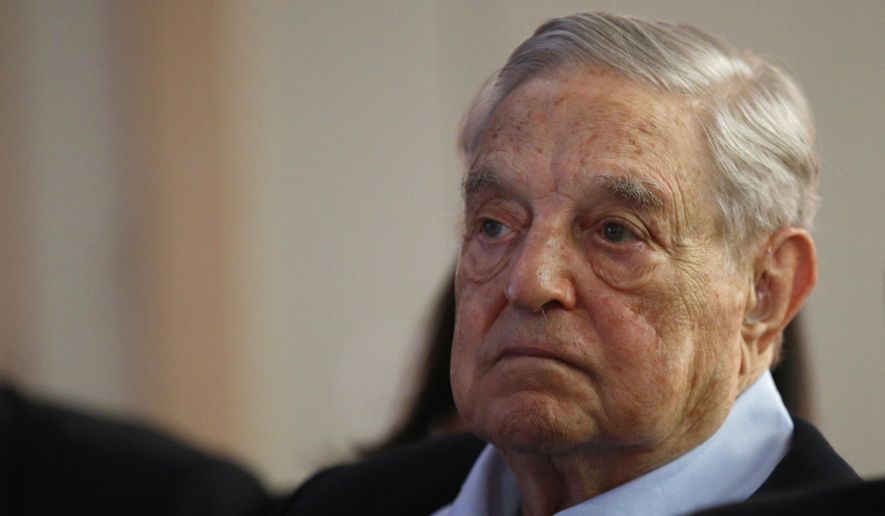 The Financial Times has named billionaire financier George Soros as its 2018 "Person of the Year," not only for his achievements but for "the values he represents" as being the "standard bearer of liberal democracy and open society."
The London-based international daily newspaper praised Mr. Soros for his steadfast activism and "liberal vision of the world" despite being targeted daily by anti-Semitic conspiracy theories and right-wing attacks.
"I'm blamed for everything, including being the anti-Christ," Mr. Soros told the Financial Times during an interview last week in Marrakesh, Morocco. "I wish I didn't have so many enemies, but I take it as an indication that I must be doing something right."
Mr. Soros, a major Democratic donor who survived Nazi-occupied Hungary as a teenager, was the first of more than a dozen high-profile Democrats who were sent pipe bombs by a Trump-supporting Florida man in October.
"I have been painted as the devil," he said. "The fact that extremists are motivated by false conspiracy theories about me to kill hurts me tremendously."
The Financial Times warned that "the forces of nationalism and populism" in the U.S. and abroad are "battering the liberal democratic order" Mr. Soros "has tirelessly supported."
"The Financial Times's choice of Person of the Year is usually a reflection of their achievements. In the case of Mr. Soros this year, his selection is also about the values he represents," the paper said. "He is the standard bearer of liberal democracy and open society. These are the ideas which triumphed in the cold war. Today, they are under siege from all sides, from Vladimir Putin's Russia to Donald Trump's America. For more than three decades, Mr. Soros has used philanthropy to battle against authoritarianism, racism and intolerance."
The Financial Times' previous "Person of the Year" recognitions included Susan Fowler in 2017 and then-President-elect Trump in 2016. The president's profile was less than glowing, with the paper lamenting that U.S. democracy had been "dysfunctional for years.
Original Article:https://www.washingtontimes.com/news/2018/dec/19/george-soros-named-financial-times-person-year-hes/
Read More:The Trail Of Blood On American Streets Stop At The Feet Of Globalist George Soros And The Radical Left
Read More:Soros Globalist Campaign Reaches Every Corner Of The Globe
Read More:The Race War Is Being Engineered
Read More:Created Catastrophe: Are We Now Seeing The Orchestrated Need For Obama's 'Civilian National Security Force'?
Read More:Soros Letter Reveals Globalist Plan To Destroy European Borders With Artificial Migrant Crisis
Read More:George Soros Spending Millions To Stop Trump's Mexican Wall
Read More:George Soros: Trump Is Single-Handedly Destroying The World 'I CREATED'
Read More:As Migrant Caravan Nears US, Video Leaks Of Honduran Mothers Being Paid To Join: Soros Continues To Pay For Chaos
Read More:Soros-Funded Organization Launches Protest Against Christian Activists' Conference