Citizens across Sweden have begun rising up to protest globalism, in solidarity with hundreds of thousands of French protesters. As the anti-globalist movement continues to sweep across Europe, the people of Sweden took to the streets of Stockholm over the weekend, protesting the UN Migration Pact.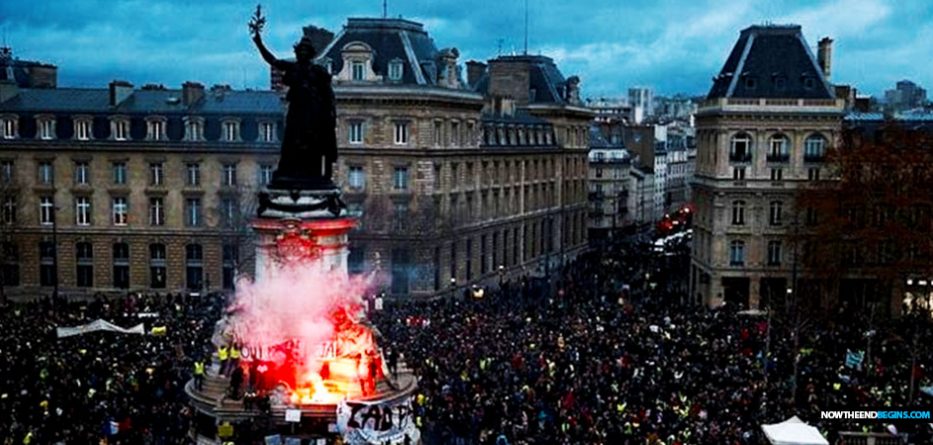 As the anti-globalist movement continues to sweep across Europe, the people of Sweden took to the streets of Stockholm over the weekend, protesting the UN Migration Pact.
Europe is one of those places where you just assume the vast majority of people are Far Left Liberals, and for the most part that's true. But even Liberals in Europe don't want to pay a globalist 'climate tax' bundled into their fuel costs, and they don't want unchecked, open border migration.
What started out as a a few hundred people in Paris grew into hundreds of thousands of angry protesters across France, and now those protests have popped up in Sweden. Soon this Yellow Vest movement, will sweep across Europe, and it starting to look a whole like what happened here in America in 2016 when 'the people' finally had had enough.
Looks like Agenda 21 is not going to be the slam-dunk the United Nations was looking for. There may be hope left yet.
Anti-Globalist Yellow Vest protests reach Sweden
From FRIA TIDER: (translated via Google translate) Hundreds of Swedes gathered again at Mynttorget in Stockholm on Saturday to demonstrate against the UN Global Migration Pact, which the government is trying to push through without any real debate or anchorage with the people. Last sunday around 500-1000 people gathered at Mynttorget at the Riksdag in Stockholm in the first Swedish demonstration against the migration package. Today Saturday was time again.
On the spot, hundreds of people, Swedish flags and yellow vests seemed like the mass protests in France. Even children participated with signs to society.
According to left-wing scientist Tobias Hubinette , there were around 500 demonstrators outside the Riksdag at 16.30, which should have cried "We are not extremists! We are ordinary Swedes".
At Mynttorget there was also the left with posters like "Together with fascism – anti-fascism is self-defense".
"It's not just about party political colors, it's about this people, " said Katerina Janouch, one of the speakers on Saturday.
"I'm here for the little 9-year-old girl who was raped in a hiding room and beaten. I am here for the poor old who paid taxes throughout their lives and now have to starve and are homeless in the country they trust. I'm here for all those women who no longer dare go out. I'm here for those who do not get what the social contract promises.
The adoption of the pact, now known as Marrakech Compact, coincides with the 70th anniversary of Universal Declaration of Human Rights, a document which is central to the pact. Mr. Guterres said "it would be ironic if, on the day we commemorate the 70th anniversary of the Universal Declaration of Human Rights, we would consider that migrants are to be excluded from the scope of the Declaration." read on UN site
According to Janouch, all Swedes, regardless of political affiliation, should participate in the demonstration and protest against the policies in Sweden.
We do not need more cracks in this country. It's the power that wants us to face each other, "she said. We need to be alone. I want the people to stand together against the abuse of power contained therein, she continued while pointing to Sweden's parliament.
Katerina Janouch also questioned why the migration pact must be signed if it is not "binding", as politicians claim.
"We will not give in!" She continued, pointing out that the number of protesters was twice as many as last weekend.
I come from old Czechoslovakia and in 1989 the dictatorship fell. It is called social revolution. Do you know how it occurred? The pen, the written word. The first time there were 30 people arrested. Next time 300 and then 3000. Then society revolution was a fact! And we can also, she invited the Swedish people's gathering.
Original Article:https://www.nowtheendbegins.com/agenda-21-yellow-vest-protests-reach-sweden-as-thousands-of-swedes-gather-to-protest-un-global-migration-pact/
Read More:In September 2015, Agenda 21 Will Be Transformed To the 2030 Agenda
Read More:Moving Toward A One World Government, A One World Economy & A One World Religion
Read More:United Nations 2030 Agenda: A Blueprint For Global Enslavement In The Beast System
Read More:In Full Defiance OF The Globalist Agenda, Croatia Refuses To Sign The UN Migration Pact
Read More:The Reason No One Understands What Is Happening With France Is That The Media Doesn't Want You To Know What It Looks Like When Citizens Reject Globalism