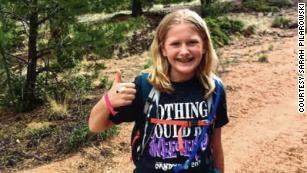 This year, more than half of all US states have had confirmed or possible cases of acute flaccid myelitis, the polio-like illness that can cause paralysis and mostly affects children, according to a new CNN analysis.
CNN reached out to health departments in every state; 48 states responded, plus the District of Columbia. Of those, 30 states said they had cases that were confirmed, suspected or being investigated — including 15 states that said they had confirmed cases in 2018.
In total, CNN found 47 confirmed cases and 49 more that were suspected or being investigated, for a total of 96.
The US Centers for Disease Control and Prevention, which releases only confirmed numbers, says
16 states had 38 cases
as of September 30. It does not identify the states.
CNN found that Colorado had 14 confirmed cases, more than any other state, followed by Texas with eight and Minnesota with six.
The states reporting confirmed cases are Arizona, Colorado, Georgia, Indiana, Iowa, Massachusetts, Minnesota, New Jersey, North Carolina, Ohio, Pennsylvania, Rhode Island, South Carolina, Texas and Wisconsin.
States reporting suspected cases or cases under investigation are Alabama, Arkansas, California, Florida, Illinois, Kentucky, Louisiana, Maryland, Massachusetts, Michigan, Montana, Nebraska, Nevada, New York, North Carolina, Oklahoma and Washington.
Acute flaccid myelitis, also called AFM, is a rare but serious condition that affects the nervous system, with a particular focus on the gray matter of the spinal cord. It affects fewer than one in a million people each year across the country, the CDC estimates.
The agency has seen an increase in cases since August 2014. Although the cause remains a mystery in the majority of cases, the 2014 jump coincided with "a national outbreak of severe respiratory illness among people caused by enterovirus D68," though it wasn't found in all patients, according to the CDC.
Other enteroviruses have also been found in patients with AFM. For example, 11 of the Colorado cases of AFM this year have tested positive for EV A71, a rare type of enterovirus not usually seen in the US, rather in Asia and other parts of the world, according to state epidemiologist Dr. Rachel Herlihy.
"This is a relatively uncommon syndrome. So I think that should be reassuring to people," Dominguez said. "This is likely a rare complication from a common virus."