After Super Typhoon Jebi, now a powerful M6.6 earthquake strikes Japan! all within a span of 24 hours. A dramatic wave of devastating disasters for the island nation.
The quake, that hit Japan 26km ESE of Chitose on September 5, 2018 at 6:07pm (UTC), is the latest episode in a miserable summer of natural disasters in Japan. According to videos, the strong tremor knocked out power to all of Hokkaido's 5.3 million residents:
The entire island lost power for the first time since Hokkaido Electric Power Co was created in 1951.
Prime Minister Shinzo Abe said 25,000 Self-Defense Force troops would be deployed for rescue operations.
Aerial footage showed dozens of landslides exposing barren hillsides near the town of Atsuma in southern Hokkaido, with mounds of reddish earth and toppled trees piled up at the edge of green fields. The collapsed remains of what appeared to be houses or barns were scattered about.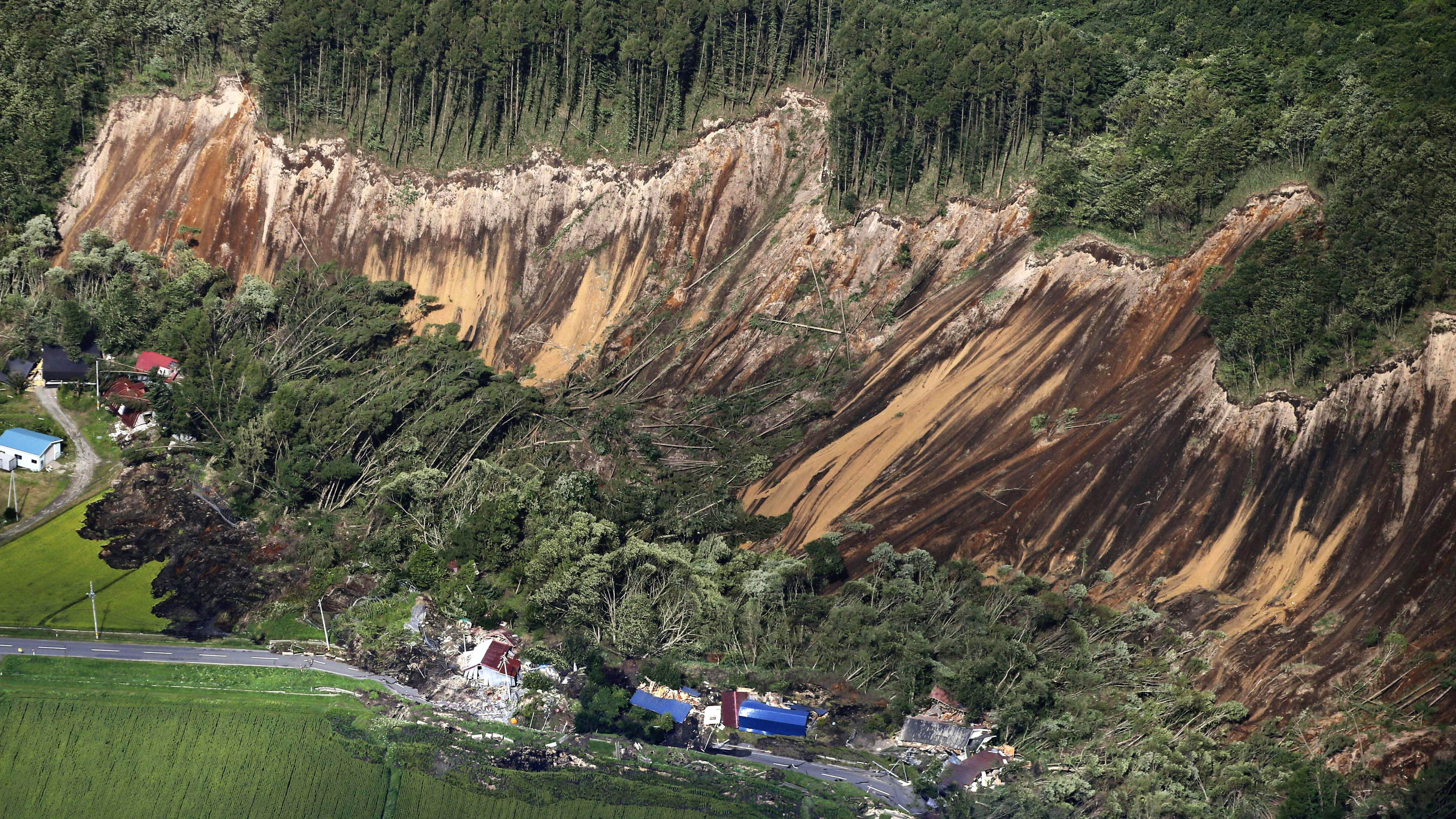 All trains across the island, which is about the size of Austria, were also halted. The Tomari nuclear power plantn, which has been shut since a 2011 earthquake and tsunami, suffered a power outage but officials said it was cooling its spent nuclear fuel safely.
A series of smaller shocks, including one with a magnitude of 5.4, followed the initial quake, the JMA said. Residents were warned to take precautions for potential major aftershocks in coming days.
The strong M6.6 earthquake hit the island of Hokkaido at a depth of 31 km (19 miles). The powerful earthquake has rocked the city of Sapporo in northern Japan just hours after large parts of the south of the country were battered by the biggest typhoon to hit in 25 years.
Meanwhile, a M5.4 earthquake hit the Chelyabinsk region in Russia on September 5, 2018, causing panic among residents and triggering the evacuation of a hospital, some schools and homes. This earthquake becomes the second largest in this region. The record is a M5.5 earthquake that hit Bilimbae in 1914 in Bilimbay. The earthquake was felt in Bashkiria, the Chelyabinsk region and in the south of the Sverdlovsk region:
The earthquake produced cracks in the walls of buildings.
Original Article:https://earthfrenzyradio.com/disasters/3952-japan-suffers-wave-of-deadly-disasters