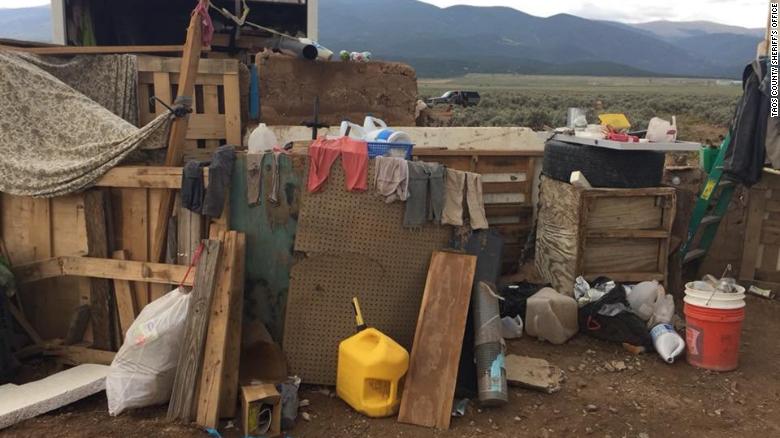 A judge in New Mexico dismissed all original child-abuse charges Wednesday against five Muslims who after their arrest at a desert compound were accused of training children to carry out terrorist attacks on schools.
District Judge Emilio Chavez in Taos County said he was forced to drop the charges against Siraj Wahhaj, Jany Leveille, Lucas Morton, Subhannah Wahhaj and Hujrah Wahhaj because the state violated the 10-day rule for a preliminary hearing
Morton, Subhannah Wahhaj and Hujrah Wahhaj could be released as early Wednesday afternoon, reported KOAT-TV in Albuquerque.
Wahhaj and Leveille will remain in custody on additional child abuse charges in connection with the death of 3-year-old Abdul-Ghani Wahhaj.
Prosecutors could still try to obtain charges against the five by seeking an indictment from a grand jury.
Later Wednesday, Wahhaj and Leveille pleaded not guilty to new charges of child abuse resulting in death.
Wahhaj, the boy's father, is accused of kidnapping the 3-year-old in December in Georgia from his legal wife. He was a fugitive until his arrest Aug. 3 with the four other adults at the compound. Medical examiners determined remains found at the site near the Colorado border were of the boy.
Authorities believe the child died when Wahhaj tried to perform an exorcism. The father then tried to "resurrect" him as "Jesus" to tell them which targets to hit, they said.
Prosecutors allege Leveille and Wahhaj witnessed the boy's seizures but gave him no medication and took no action to seek proper medical care.
Mass shootings
WND reported last week Wahhaj and Leveille wanted to attack an Atlanta hospital, according to prosecutors who already had accused them and the three other adults of training children at a desert compound to carry out mass shootings.
Prosecutors, citing one of the 11 children found malnourished in squalid conditions at the makeshift camp, said Leveille mentioned Grady Hospital as a "corrupt institution" she wanted to "confront," according to a brief reported by Fox News.
The brief said Leveille and her partner Wahhaj – said to be her "Islamic husband" – "would laugh and joke about dying in Jihad." Leveille is an illegal immigrant from Haiti who also is under investigation by federal immigration authorities for overstaying her non-immigrant visitor visa after arriving 20 years ago in the United States. She was returned Thursday to Taos from a federal holding facility in Texas.
Wahhaj is the son of Brooklyn imam Siraj Wahhaj, who was named as a possible co-conspirator in the 1993 World Trade Center bombing and, as WND has reported, is on record urging a violent overthrow of the "filthy" U.S. government, assisted by jihad warriors armed with Uzis. The elder Wahhaj has insisted his son's problems with the law amounted to a domestic conflict that has nothing to do with Islam.
In an Aug. 13 order, Judge Sarah Backus accused prosecutors of bias against Muslims and concluded that while their evidence was troubling, it did not indicate any clear threat to public safety from the defendants. She ordered the release of the five adults on a $20,000 signature bond, meaning they didn't have to put up any money.
WND reported law enforcement officials believe the group is a cult that regards Leveille as a messianic figure.
The New Mexico compound was mysteriously razed days after Backus' order to release the defendants. It's unknown who ordered the razing. The Taos County Sheriff's Office, which helped carry out the Aug. 3 raid, stated it was not responsible, the Taos News reported. Authorities said they recovered evidence before the property was destroyed.
Original Article: https://www.wnd.com/2018/08/judge-dismisses-charges-against-new-mexico-jihadists/#4isuu7V3XKuhhSSG.99