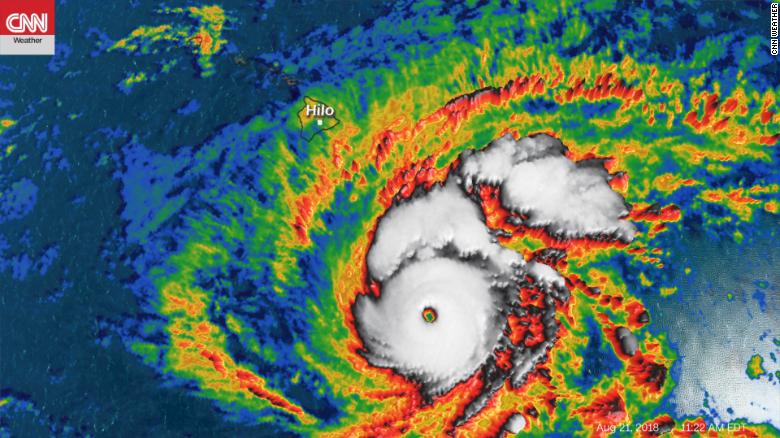 Hurricane Lane
will pose a significant threat to lives and property as it spreads torrential rain, strong wind gusts and pounding surf across Hawaii into this weekend.
Lane has the potential to be the single-costliest hurricane in recorded history of Hawaii and may end up causing the most expensive hurricane damage in all of the United States for the 2018 hurricane season, according to AccuWeather President and Founder Dr. Joel N. Myers.
Hurricane Iniki caused just over $3 billion in damage to Hawaii in September 1992, which would be about $5 billion in today's dollars, according to Myers.
"Lane could potentially cause in excess of $10 billion in damage due to its forecast impacts as well as the increase in population, property, property value and infrastructure on the Hawaiian Islands since then," Myers said. The damage from Hurricane Lane will be mainly from flooding, high tides and beach erosion rather than wind.
If the storm tracks closer to the island than what AccuWeather is currently projecting, it could cause as much as $20 billion of damage or more, which would make it the costliest hurricane in Hawaii's history.
Tropical storm conditions will continue to ramp up on the Big Island through Friday and spread northwestward across the rest of the islands through this weekend. Rainfall is already causing flooding and debris flows.
This animation shows Hurricane Lane spinning just southwest of the Big Island of Hawaii on Friday, Aug. 24, 2018. (NOAA / GOES Satellite)
Lane, currently a Category 3 hurricane, will weaken slowly. However, its slow forward speed will result in an extended period of rain, wind and high surf, as compared to a fast-moving storm.
Lane will continue on a north to northwest path through Friday night.
During this weekend, a turn back to the west is forecast.
However, with the timing of that westward turn somewhat uncertain, the center of Lane may be less than 100 miles to Lanai, Maui, Moloka'i, O'ahu and Kauai. While direct landfall is unlikely, it still cannot be 100 percent ruled out.
There is the possibility that Lane may stall and wobble just southwest of the central islands for a day or two.
"As Lane weakens, it is then more likely to be pushed westward by the northeast trade winds later this weekend," AccuWeather Hurricane Expert Dan Kottlowski said.
The closer Lane tracks to the individual islands, or lingers nearby, the more severe weather conditions, damage and risk to lives there will be. Even with the expected glancing blow, the situation remains serious for lives and property.
Flooding rainfall and mudslides are greatest concern
"Residents and visitors to the Hawaiian Islands need to be very cautious and wary over the next three to four days and stay alert, watching out for downed trees and power lines, potential flash localized flooding hazards, mudslides, debris and unusual phenomenon that can occur after a storm," Myers said. "There may be casualties and fatalities as a result of flooding or the effects of the agitated state of the ocean, including rip currents and rough seas. If people heed warnings and forecasts, the death toll will mostly likely be less than 10. If people don't heed the warnings, it could be a multiple of that. To remain safe, residents and visitors can track the storm on our free AccuWeather app."
In general, Harvey-like rainfall of 1-3 feet is expected by AccuWeather meteorologists because of the slow-moving and stall potential with Lane.
An AccuWeather Local StormMax of 50 inches is forecast where rain persists along the steep mountainsides of the Big Island and Maui with a StormMax of 36 inches on the other islands.
This amount of rainfall will lead to extensive flash flooding. Expect some bridges and roads to be washed out or severely damaged.
In areas that are typically sheltered during the prevailing northeast trade winds, 1 to 4 feet of rain can lead to catastrophic flash flooding and mudslides.
People should not attempt to drive through flooded areas or venture near the edge of streams. The road may have been compromised and the banks of the stream may give way without warning.
Expect mudslides and landslides to occur without notice and block roads.
"People living in flood- and mudslide-prone areas should be prepared to evacuate," Kottlowski said.
Even after Lane moves away on Sunday and Monday, a continued stream of tropical moisture will enhance showers along the eastern sides of the islands. Flooding problems may only grow worse and any necessary clean up operations could be hindered.
RELATED:
Reports: Hurricane Lane triggers major flooding, landslides across Hawaii
5 expert tips for protecting your home against hurricane damage
What is the Saffir-Simpson Hurricane Wind Scale?
How to ensure the safety of family pets during a hurricane
2018 Asia autumn forecast: Japan may face flood threats as drought builds from Ukraine to Kazakhstan
Tropical-storm-force winds with damaging hurricane-force gusts anticipated
Throughout the islands, winds ranging from 30-60 mph will be common over the islands for a several-day stretch in some cases.
Long-duration winds of this speed can push weak trees over and cause sporadic power outages.
Gusts to and exceeding hurricane force (74 mph) are likely as heavier squalls move through, which can lead to widespread power outages, uprooted trees, flying debris and property damage, according to Kottlowski.
A few brief, isolated tornadoes and waterspouts may occur. Where these occur, severe damage can be expected.
Long-duration pounding, damaging surf in store
Near-shore waves in non-protected harbors may reach and exceed 20 feet in some cases. People should not stand or walk along the immediate coast and not venture onto breakwaters and jetties.
"Expect extensive overwash while relentless, pounding waves are likely to cause to damage to structures, walkways and roadways near the coast," Kottlowski said.
Storm surge flooding can occur where water is funneled toward the shore and cannot quickly escape.
The chaotic nature of the pounding waves and frequent and strong rip currents will be too dangerous for anyone to be in the water, including experienced surfers.
"All of the impacts from flooding, wind and heavy seas can be life-threatening," Kottlowski said.
When compared to Iniki, it is possible that wind conditions may be less severe, but flooding rainfall may be more severe due to Lane's slow-moving nature.
No immediate additional threats in Lane's wake, but pattern has potential for more hurricane threats
While there are no additional threats from the tropics in the short term, additional threats from tropical storms and hurricanes are likely into the autumn, due to a developing El Niño.
Because El Niño is a plume of warmer-than-average waters over the tropical Pacific Ocean, the warm water can sustain more hurricanes than average over the eastern and central Pacific, cause them to be stronger in nature and allow them to retain strength for a longer period of time as they approach Hawaii.
Original Article:https://www.accuweather.com/en/weather-news/hawaii-may-face-direct-hit-serious-damage-from-hurricane-lane-to-end-this-week/70005829