Mark Zuckerberg is counting the cost of user disenchantment with Facebook Inc.
His fortune tumbled by $16.8 billion in late trading Wednesday, as shares of the social media giant slid 20 percent at 5:37 p.m. in New York on disappointing results. If that holds through Thursday's close, he will slide to sixth place from third on the Bloomberg Billionaires Index. It would also wipe his $13.7 billion of gains for the year, leaving him with just less than $70 billion.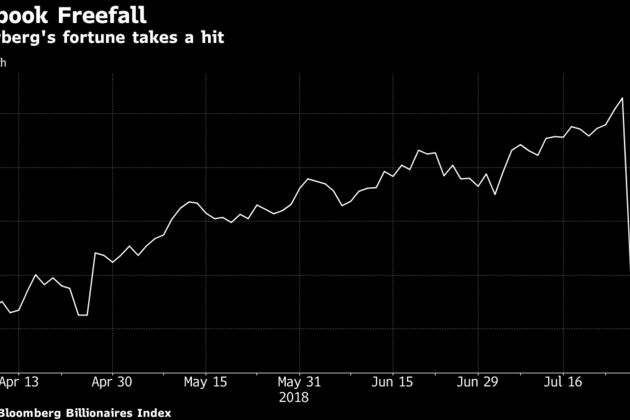 Second-quarter revenue and average daily visitors fell short of analysts' estimates, according to a statement from the Menlo Park, California-based company. Revenue increased 42 percent to $13.2 billion, missing the $13.3 billion Wall Street consensus. The company is grappling with new data laws in Europe, criticism over its content policies and privacy issues.
Original Article:https://www.bloombergquint.com/technology/2018/07/25/zuckerberg-loses-16-8-billion-in-a-snap-as-facebook-plunges#gs.WlAwtjw