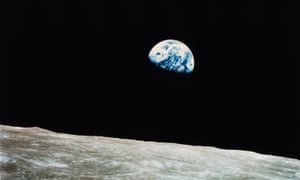 Scientists have for centuries fantasised about human colonisation of the moon. That day may have drawn a little closer after Japan's space agency said it had discovered an enormous cave beneath the lunar surface that could be turned into an exploration base for astronauts.
The discovery, by Japan's Selenological and Engineering Explorer (Selene) probe, comes as several countries vie to follow the US in sending manned missions to the moon.
Using a radar sounder system that can examine underground structures, the orbiter initially found an opening 50 metres wide and 50 metres deep, prompting speculation that there could be a larger hollow.
This week scientists at the Japan Aerospace Exploration Agency (Jaxa) confirmed the presence of a cave after examining the hole using radio waves.
The chasm, 500km (310 miles) long and 100 metres wide, appears to be structurally sound and its rocks may contain ice or water deposits that could be turned into fuel, according to data sent back by the orbiter, nicknamed Kaguya after the moon princess in a Japanese fairytale.
Jaxa believes the cave, located beneath an area of volcanic domes known as the Marius Hills on the moon's near side, is a lava tube created during volcanic activity about 3.5 billion years ago.
"We've known about these locations that were thought to be lava tubes … but their existence has not been confirmed until now," Junichi Haruyama, a researcher at the Japan Aerospace Exploration Agency, told AFP on Thursday.
The agency said the chamber could be used as a base for astronauts and their equipment, since it would protect them from extreme temperatures – ranging from an average of 107C during the day to -153C at night – as well as radiation from the sun's ultraviolet rays.
"We haven't actually seen the inside of the cave itself so there are high hopes that exploring it will offer more details," Haruyama said.
The discovery will boost plans by several countries to send astronauts to the moon, almost half a century after the Apollo 11 mission.
Jaxa recently announced that it aimed to put a Japanese astronaut on the moon for the first time by around 2030, most likely as part of an international mission.
In another sign that the US and Soviet Union's cold war battle for supremacy has been replaced by an Asian space race, China has said it wants to conduct its first manned mission to the moon in around 2036 as part of its ambitious lunar and Mars exploration programmes. Last year it said it had plans to eventually create a colony there.
"Our long-term goal is to explore, land, and settle [on the moon]," Wu Weiren, the chief designer of China's moon and Mars missions, told the BBC. "We want a manned lunar landing to stay for longer periods and establish a research base."
Russia, too, has said it hopes to start building a human colony – initially for just four people – on the moon by 2030.
China, Russia, India and the US have made successful unmanned moon landings, but the US is the only country to have put humans on the lunar surface.