At least one person has died and one has gone missing in severe flooding that has swamped a large swath of southeastern Louisiana and southern Mississippi.
Louisiana Gov. John Bel Edwards has declared a state of emergency.
The Amite and Comite rivers are both expected to set new flood level records.
Rising waters entered St. Helena Parish Hospital.
Torrential rains have hit both Louisiana and southern Mississippi, flooding homes, forcing evacuations and water rescues, and sending area rivers rising quickly toward historic crests.
More than 17 inches of rain have fallen in Livingston, Louisiana, according to observations relayed to the National Weather Service, and Gov. John Bel Edwards declared a state of emergency for the entire state. Edwards is heading back to Louisiana, cutting short a trip to Colorado for a meeting of the Democratic Governors Association, according to the Associated Press.
The heavy rain will continue over Louisiana and Mississippi through at least Saturday morning, said weather.com meteorologist Tom Moore.
"It's going to get a whole lot worse before it gets better," Moore said.
The Weather Channel reported on Saturday that flooding has claimed at least two lives in Louisiana.
One of the victims, Sixty-eight-year-old William Mayfield, drowned trying to escape floodwaters near Zachary, Louisiana, as heavy rains piled up water in the northeastern regions of the state, NBC News reported.
"We were in the trailer just watching TV and then the water just started coming up," Vernon Drummond, Mayfield's roommate, told the station. "We were walking out and he slipped and fell. He went under the water. We tried to save him, but we couldn't."
Louisiana State Fire Marshal Chief H. "Butch" Browning also confirmed to CNN that a man in his 50's was killed on Friday in the St. Helena Parish flooding.
Flooding in Centreville, Mississippi, Friday morning. (Sherry Jefferson)
Rescue crews in Zachary recovered Mayfield's body Friday morning, according to WAFB. Drummond says Mayfiend is originally from Los Angeles and does not have any family in the area.
A man is still missing after he and his son were swept away by rushing waters in Tangipahoa Parish, reports CNN.
Police Chief Darrell Martin told CNN that the son has been located.
Rivers Rising to Record Levels
All this heavy rain quickly overwhelmed waterways in the region. The Tickfaw River reached a record flood stage of 13.33 feet at Liverpool, according to the NWS, and crests on the Amite and Comite Rivers are forecast to exceed record levels set in 1983.
During the record flood that year, the Amite and Comite rivers flooded 3,025 homes and businesses in Livingston Parish, 1,615 in East Baton Rouge Parish and 828 in Ascension Parish, the Baton Rouge Advocate said.
'Be Prepared to Leave'
According to WWL-TV, the Bogue Chitto River is expected to crest at 18 feet, and deputies are going door-to-door in Bogue Chitto Heights telling residents 'be prepared to leave.' In Tangipahoa Parish, president Robby Miller instructed residents living near the Tangipahoa River to leave their homes and find a safer place to stay until the water recedes, the New Orleans Times-Picayune reported.
Authorities rescued 72 Tangipahoa Parish residents and seven pets that were stranded by rising floodwaters, parish president Robby Miller told the AP.
The flooding was so bad Friday in Walker, Louisiana, that caskets were unearthed in St. Mark's Cemetery. Photos posted by the Walker Police Department on Facebook showed at least two bright yellow caskets floating in floodwaters.
"Virtually every road now in the city has some kind of water problem," Central, Louisiana, mayor Jr. Shelton told the Baton Rouge Advocate. "We've never seen anything like this before."
Heavy rains caused street flooding in Denham Springs, Lousiana, Friday morning. (Jordan Grove)
A school bus ferrying children home veered off the road and into a ditch in Zachary, according to a separate Baton Rouge Advocate report. Zachary police chief David McDavid said no one was injured in the accident, which likely occurred when the driver didn't see a turn due to high floodwaters.
The NWS declared a flash flood emergency Friday morning as rising water entered St. Helena Parish Hospital and a local nursing home. The rising water was also responsible for isolating the towns of Greenburg, Louisiana, and Osyka, Mississippi.
Flooding also forced an Amtrak train traveling from Chicago to New Orleans to stop in central Mississippi because floodwaters covered the tracks, according to the AP. Amtrak planned to bus the passengers to New Orleans, the report added.
A motorist sustained moderate injuries Friday after a tree was knocked over onto their vehicle in St. Helena Parish, according to the Louisiana Police Department.
A dusk-dawn curfew was issued in Tangipahoa Parish Friday, WGNO.com reports. Parish President Robby Miller and Sheriff Daniel Edwards issued the curfew in the afternoon, stating that only essential personnel, those traveling to and from work and those traveling for emergency situations will be allowed on the roadways.
Storms in Crosby, Mississippi, flooded much of the town Friday afternoon and evening, according to Wilkinson County Emergency Management Director Thomas Tolliver. Fifty-two residents voluntarily fled the town to a shelter in Natchez Thursday afternoon, Tolliver also told weather.com. Crosby is home to about 300 people.
Water rescues have also been reported in Centreville, Mississippi, according to the NWS.
(MORE: Oil Refinery Fire Burns in Convent, Louisiana)
The National Guard has deployed high water vehicles to make rescues in St. Helena Parish, Louisiana, WWLT.com reports. Interstate 55 was closed in both directions in St. Helena Parish due to flooding, the Louisiana Department of Transportation reported Friday.
St. Charles Parish President Larry Cochran declared a state of emergency Thursday in a precautionary move in anticipation of further rainfall and flooding later this week, WBRZ.com reported. Ditches and canals backed up and some homes were flooded by Thursday afternoon.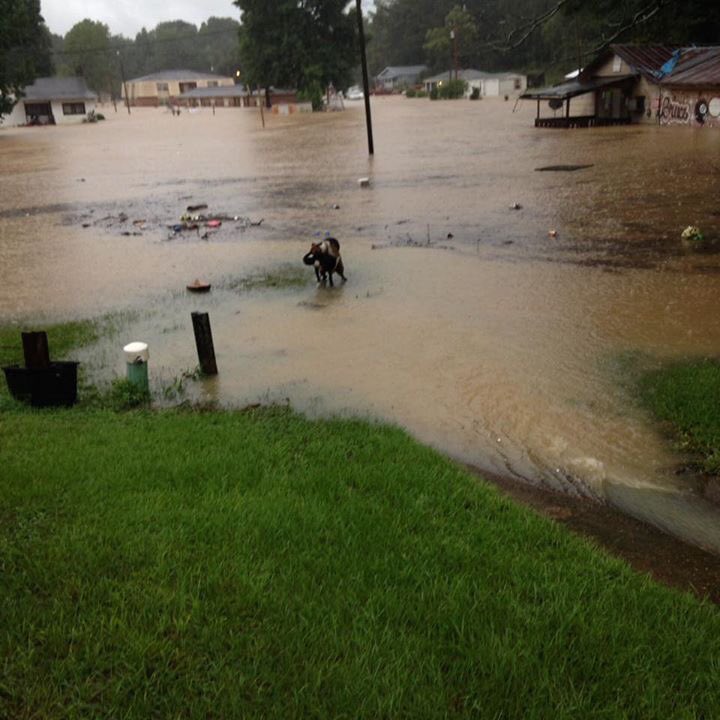 "Within two hours, it was flooded," St. Charles resident Tiffany Jackson told Fox 8. "It went from master bedroom to my son's bedroom to the hallway to the kitchen to the bathroom, and every time I swept it up it just kept coming back in."
All schools in St. James, St. Helena, Tangipahoa and Livingston parishes were closed Friday, WBRZ.com reported. Washington Parish public schools were also closed, according to WDSU.com.
The office of Louisiana Gov. John Bel Edwards on Saturday morning also released a revised list of shelters for those impacted by floods.
Original Article:https://weather.com/news/weather/news/gulf-coast-flooding-latest-news