Home secretary vows to make sure Britain leaves EU, saying there must be no attempts to 'remain through the back door'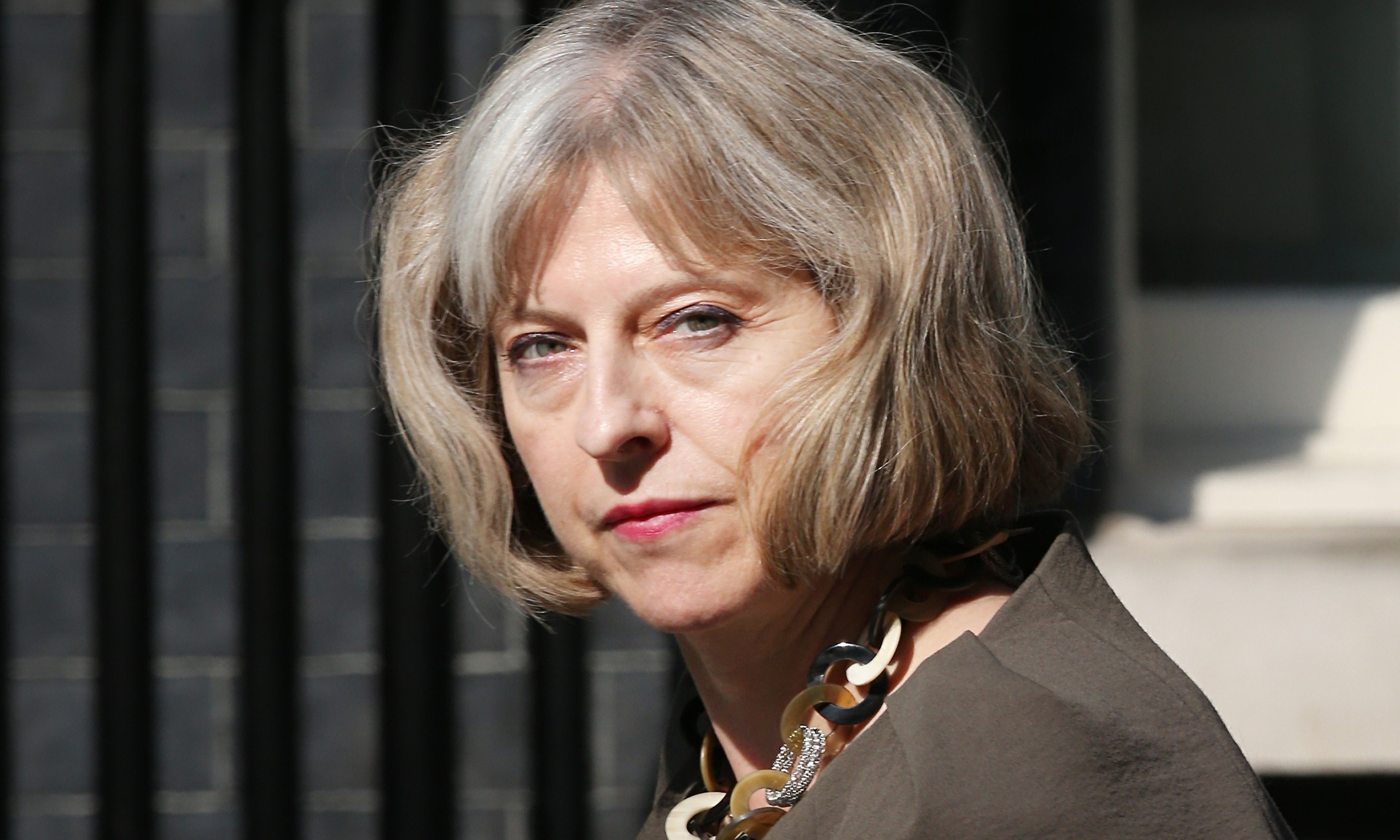 The home secretary, who campaigned to remain in the EU, positioned herself as the candidate of stability and experience.
Asked for her pitch, she said: "I'm Theresa May and I'm the best person to be prime minister."
The event was electrified by Michael Gove's surprise announcement just minutes before she stood up that he would run for the leadership because, he said, Boris Johnson was not a suitable candidate.
Bookmakers were making May the favourite, followed by Gove, even before Johnson dramatically announced later in the morning, after she had made her speech, that he was not going to stand.
At the May leadership announcement event, most MPs thought her speech had worked against Johnson and in her favour by splitting the vote among leave supporters. But Gove is also extremely popular among the Conservative grassroots, so could prove fatal to her campaign if the pair become the final two on the shortlist.
While a string of MPs were defecting from Johnson's camp to Gove, those loyal to May were making frantic plans to check that all her supporters were still backing her bid.
During her speech, May positioned herself as a candidate to unify the party after a divisive referendum and someone to appeal to the whole country, not a privileged few.
She attempted to woo leave voters by signing up Chris Grayling, a prominent leave campaigner, to chair her campaign and pledging to create a department to negotiate the UK leaving the EU.
After the meeting, other prominent Conservatives signed up to support her. Jeremy Hunt, the health secretary, declared his support after having considered a bid himself.
He said: "I have decided that now is not the right time for me to run for the leadership – though I remain completely committed to ensuring we secure our position as a great trading nation with sensible controls on migration. I believe that Theresa May has the strength, judgment and values to deliver those things. She is the right choice to lead Britain in a challenging period and will make a truly outstanding prime minister."
May also promised categorically that Britain would leave the EU, with no attempts to "remain through the back door".
"The country voted to leave the European Union, and it is the duty of the government and of parliament to make sure we do just that," she said.
She also ruled out an early general election if she was leader and said there would be a normal autumn statement and no emergency budget. No decision to invoke article 50 should be made until the British negotiating strategy was agreed, she said, which means not before the end of this year.
May praised David Cameron for reforming the Conservatives and the country, but twice undermined promises made by George Osborne, the chancellor, on the economy.
She said there would be no "emergency budget" to deal with the consequences of Brexit and promised that a Conservative government under May would no longer seek to reach a budget surplus by the end of the parliament, to avoid tax increases that might disrupt investment.
At the same time, she reached out to the liberal wing of the Conservative party by scrapping her claim that the UK should withdraw from the European convention on human rights. She said she recognised there was not a majority in the House of Commons for withdrawing and so she would not be pursuing that.
On top of that, she included a passage about social mobility and fighting "burning injustices" that led to inequality.
"If you're from an ordinary working-class family, life is just much harder than many people in politics realise. You have a job, but you don't always have job security. You have your own home, but you worry about mortgage rates going up. You can just about manage, but you worry about the cost of living and the quality of the local school.
"Frankly, not everybody in Westminster understands what it's like to live like this, and some need to be told that what the government does isn't a game. It's a serious business that has real consequences for people's lives."
Some have been sceptical about May as a candidate because she is not known as a media personality. She addressed this by saying she was not showy: "I don't gossip about people over lunch. I don't go drinking in parliament's bars. I don't often wear my heart on my sleeve. I just get on with the job in front of me."
However, she did attempt at least one joke at the expense of Johnson, saying the last time he negotiated with the Germans "he came back with three nearly new water cannon".
In another dig at Johnson, she said any attempt to wriggle out of commitments on reducing immigration would be unacceptable, "especially from leadership candidates who campaigned to leave the EU by focusing on immigration".
May was pressed several times about her own record on immigration given her failure to reduce it to the tens of thousands as promised by the Conservative manifesto.
She said there would have to be controls on freedom of movement but there would be "no silver bullet" on reducing immigration and it was wrong to suggest that leaving the EU would stop the flow of people into the UK altogether.
Original Article:http://www.theguardian.com/politics/2016/jun/30/theresa-may-launches-tory-leadership-bid-with-pledge-to-unite-country