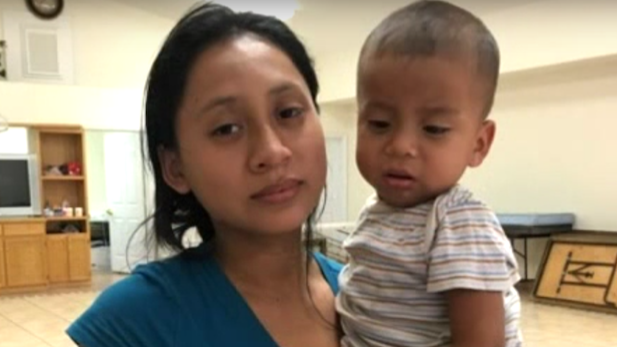 Refugees from Central America are pouring into the United States, a trend from 2014 that seems to be resurfacing along the U.S.-Mexican border this year. Many of them are children, sent on the long journey alone.
The Border Patrol, immigration courts and refugee workers were overwhelmed the last time it occurred, in 2014. Border officials have asked for more resources this time out.
In Yuma County, Arizona's southwestern most corner, work to strengthen the fence and add patrols led to a significant decline in illegal crossings last year, 90 percent by some accounts.
It is picking up again, Yuma County law enforcement officials said.
"They're not what you would consider a typical border crosser," Yuma Sheriff's Capt. Eben Bratcher said. "Many of these people are from other nations, other than Mexico. Central America, Chinese, Romanians are a big one right now, and so that's kind of a change in what we've come to expect here."
In 2014, Central Americans flooded the U.S., mostly at the Texas border. By April that year, 28,000 lone children were among them. That number dropped by half last year. This year, the surge is already back to 2014 levels with more than 27,000 children, officials reported.
The Yuma Sector of the Border Patrol has seen its own spike. In 2014, 178 kids arrived here. By March this year, the number was 1,500.
Customs and Border Protection officials declined interview requests. In February, agency Commissioner Gil Kerlikowske asked the House Appropriations Committee for enough funding to manage an expected 75,000 children at the border, about the same number as in 2014.
"Along the Southwest border, we monitor and respond to the flow of unaccompanied children and families," Kerlikowske said at the hearing. "The numbers in fiscal year '15 declined from their spike in '14, but we did see an increase in the numbers this past fall and we remain concerned about seasonal increases this year and in fiscal year 2017."
He asked Congress for $12 million for the surge and a contingency fund of up to $23 million.
In Yuma and elsewhere, the expected surge is playing out at shelters and churches taking in Central Americans.
At one Yuma church, a woman who gave her name only as Marisol said she fled Honduras in April after two uncles were killed. She followed a route she was told about that brought her to Yuma.
Marisol said she tied her 4-year-old son to her back in a makeshift sling to climb over a 12-foot high security screen, dropping into the U.S. where she surrendered.
About 25 women with children arrive weekly, said Melanie Nelson with Yuma County Interfaith.
"If they've gotten here, they've made it," Nelson said. "This is the easiest part of the trip where there are bus drivers that are [able] to protect them much more so than at any other time on their trip."
Another woman, Beatriz Escalante, said she hitch-hiked from Guatemala and surrendered after scaling the wall.
"For my child, because there's no work [in Guatemala] and here they can help me," she said in Spanish, holding her son in her arms.
Her journey wasn't over. She had a Greyhound bus ticket and an immigration court date ahead of her in Chicago.
Original Article:https://www.azpm.org/p/crawler-stories/2016/6/6/89423-new-surge-of-central-americans-seen-on-border/
Watch More:Artificial Crisis: Migrant Issue Helping Unveil Mark Of The Beast RFID Chip Implants
Read More:Putin Offers Free Land To Foreigners; A Jab At The Globalist's Plan For Artificial Migrant Crisis
Read More:CIA Agent Admits Obama Created ISIS To Invade Syria