COLUMBIA, S.C. (CBS Atlanta/AP) — Days of torrential rains kept much of South Carolina and its capital gripped by floodwaters early Monday as emergency responders promised renewed door-to-door searches for anyone still trapped after a weekend deluge and hundreds of rescues.
At least seven weather-related deaths have been blamed on the vast rainstorm.
Heavy rain kept falling into the early hours Monday around the Carolinas from the storm that began swamping the Southeast late last week, part of an unprecedented low pressure system that dumped more than 20 inches on one spot alone in Columbia, the South Carolina capital.
"We haven't had this level of rain in the low-country in a thousand years — that's how big this is," Gov. Nikki Haley told CBS News.
Haley continued, "This is an incident we never had before. It is water and it is slow moving and sitting and we cannot just take the water out."
Sunday was the wettest day in the history of Columbia, according to the National Weather Service. The rainfall total at the Columbia Metropolitan Airport was 6.87 inches, the most rain that's ever fallen there in one day. The rainstorm dumped so much water on South Carolina and parts of several surrounding states that even the weather experts said they were astonished.
"The flooding is unprecedented and historical," said Dr. Marshall Shepherd, a meteorologist and director of the atmospheric sciences program at the University of Georgia, in an email to The Associated Press.
He said the unique double punch of the upper level low — aided by a "river" of tropical moisture in the atmosphere from Hurricane Joaquin spinning far out in the Atlantic — gave the monster rainstorm its punch.
President Barack Obama has declared a state of emergency for South Carolina.
The deluge made for otherworldly scenes in the state capital of Columbia as floodwaters nearly touched the stoplights Sunday at one downtown intersection. Rainwater cascaded like a waterfall over jagged asphalt where a road sheered apart and many cars were submerged under flooded streets.
WJBF-TV reports that the flooding caused coffins to rise up from the ground at Springfield Cemetery in Orangeburg.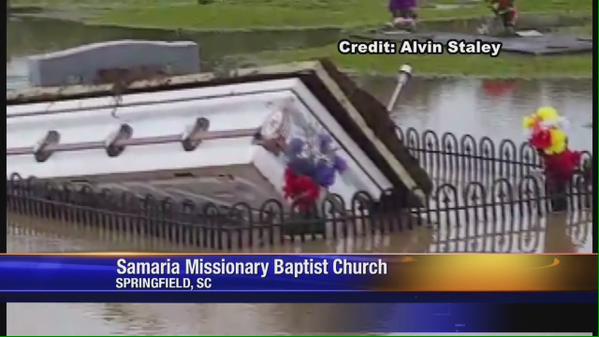 Original Article:http://atlanta.cbslocal.com/2015/10/05/south-carolina-coffins-flooding/