TENSIONS are set to escalate in the South China Sea as China seeks assurances the United States will not send warships to test its determination to lay claim to a string of remote, strategic islands.
Chinese Foreign Ministry spokeswoman Hua Chunying said last night that the US needs to clarify its stance on proposed new patrols around the islands being used to establish a claim on key strategic oil and fish stocks.
China urged "the relevant country" to "refrain from taking risky and provocative actions to maintain the regional peace and stability", Hua told reporters.
Since 2010, China has been actively asserting sovereignty over what it calls the "Nanyang" Sea, known in the West as the South China Sea, a 5.6 million square kilometre stretch of water, islands and reefs between it, Vietnam, Malaysia, Taiwan and the Philippines.
HYPOTHETICAL: Can Australia defend its far-flung islands?
These claims even approach the coasts of its Asian neighbours.
Hua said China's upholds the international principal of freedom of navigation in the area — but that doesn't mean foreign forces can operate freely there.
China has asserted it is seriously concerned about reports military ships and aircraft will be deployed by the US to challenge Chinese claims.
The Wall Street Journal last night quoted US defence officials as saying Defense Secretary Ash Carter had recently "asked for ideas" about how to address China's moves to reinforce the occupied islands.
"We are considering how to demonstrate freedom of navigation in an area that is critical to world trade," an anonymous US official later told Reuters.
While the US military already operates in the South China Sea, crossing the 12 nautical mile (22.2 kilometre) territorial limit around the disputed islands could raise dangerous tensions if China chose to respond.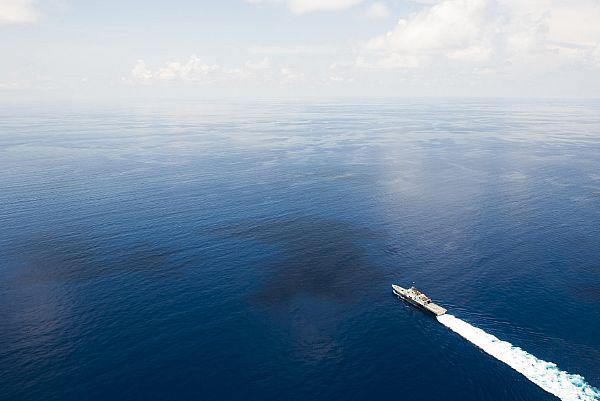 Power projection … China's experimental new aircraft carrier Liaoning. Source: Supplied
Wary eye … An armed Chinese fighter jet flies near a US Navy P-8 Poseidon patrol aircraft over the South China Sea about 135 miles east of Hainan Island. Source: US Navy
CLOSE ENCOUNTERS
Tensions in the South and East China Seas have been quiet in recent months following a string of incidents in recent years.
The US has so far not sent ships and aircraft close to the reclaimed reefs — the standard zone for territorial waters around natural land — in order to avoid escalating tensions, the WSJ reported.
Hoever, a string of recent military exercises have been conducted with nations in the region and one of the US Navy's most modern warships, the littoral combat ship USS Fort Worth yesterday completed a weeklong deployment near the Spratly Islands.
NEXT GENERATION: Is Australia's stealth fighter already obsolete?
"We're just not going within the 12 miles — yet," it quoted a senior US official as saying.
A challenge by the US military in the region could potentially trigger a regional standoff, the newspaper added.
Combat jets adopted Cold-War style tactics and flew dangerously close to US and Japanese patrol aircraft. In December 2013, the cruiser USS Cowpens was almost rammed by a Chinese warship escorting a new aircraft carrier on sea trials in international waters.
Any new push by US or Japanese aircraft or warships into this contested region is likely to evoke more of this kind of aggressive manoeuvring and posturing.
But it remains a dangerous game of international brinkmanship.
And it's a scenario the US is no longer well positioned — militarily, diplomatically or economically — to win.
"Chinese leaders in 2014 demonstrated a willingness to tolerate a higher level of regional tension as China sought to advance its interests, such as in competing territorial claims in the East China Sea and South China Sea. China's military modernisation has the potential to reduce core US military technological advantages," the US Department of Defence reported.
Storm clouds ahead … The aircraft carrier USS Carl Vinson and its escorting warships participate in a bilateral training exercise this week aimed at developing and expanding bilateral exercises with the Malaysian Royal Navy. Source: US Navy
'THREATENING' EXPANSION
The US Department of Defence describes China's ongoing modernisation of its military and strengthened footholds in the South China Sea as a potential threat.
"The PLA is developing and testing new intermediate- and medium-range conventional ballistic missiles, as well as long-range, land-attack, and anti-ship cruise missiles that extend China's operational reach, attempting to push adversary forces — including the United States — farther from potential regional conflicts," the Pentagon said in a new report on China's military capabilities last week
"China is also focusing on counter-space, offensive cyber operations, and electronic warfare capabilities meant to deny adversaries the advantages of modern, informationized warfare. In 2014, China also started reclaiming land and building infrastructure at its outposts in the Spratly Islands. China will be able to use them as persistent civil-military bases of operation to enhance its presence significantly in disputed areas."
The upshot of this expansion was to improve its ability to fight short-duration, high-intensity regional conflicts, the Pentagon noted.
The report follows US Admiral and commander of the Pacific Fleet Harry Harris speaking out at a dinner at the Australian War Memorial in March.
"China is creating a great wall of sand with dredges and bulldozers over the course of months," he said. "It's no surprise that the scope and pace of building man-made islands raises serious questions about Chinese intentions."
He pointed out that the contested waterways carry some 60 per cent of Australia's exports and warned that China's expansionist behaviour had increased the potential for "miscalculation".
The official US stance on the disputed islands is that it takes no position on sovereignty claims in the South China Sea, but has an interest in peace and stability in its busy shipping lanes.
Artificial island … This areal photo taken through a glass window of a military plane shows China's alleged ongoing reclamation of Mischief Reef in the Spratly Islands in the South China Sea Monday, May 11, 2015. Source: AP
GREAT WALL OF SAND
International defence and maritime think tanks are closely monitoring China's activities on these islands, with websites such as Asia Maritime Transparency Initiative regularly posting updated satellite images of construction progress.
These photographs reveal that since March last year reclamation work has commenced at seven new sites in the Spratlys.
China is using a philosophy of "guyou zhi jiangyu — "Chinese territory since time immemorial" to justify its expansion into the disputed areas. Essentially, if China at any time in the past held a piece of land it considers it to remain its rightful property.
Japan has also rejected Chinese claims to the Senkaku islands — an island chain extending to the southwest of Okinawa in the East China Sea.
FLASHPOINTS: The territorial turmoils to Australia's north
Vietnam has voiced fresh protests in recent weeks, saying China's construction activities had seriously violated Vietnam's sovereignty.
"Vietnam has sufficient legal and historical evidence to affirm its sovereignty, sovereignty right and jurisdiction in the East Sea in accordance with international law," Foreign Ministry spokesman Le Hai Binh said earlier this month.
Binh said in his statement that China's activities had to end in order to avoid complicating and extending disputes in the troubled waterway.
China first began to assert ownership of the South China Sea in 1974 when a surprise military action expelled the South Vietnamese from the Crescent Islands. Seven more islands were occupied in the Spratlys chain in 1988 when Chinese warships clashed with Vietnamese vessels.
In 2012, China occupied the Philippine-claimed Scarborough Shoal and Second Thomas Shoal — ignoring vocal international protests.
Most recently, China last year anchored an oil rig in waters claimed by Vietnam and has engaged in an extensive and expensive island reclamation program.
It has since created more than 800 hectares of artificial islands, which are being turned into military outposts with airfields and ports.
China insists the construction program is not aggressive and is taking place on Chinese territory. The buildings and infrastructure are for public service use, the government says, to support fishermen and to assert Chinese sovereignty.
Original Article: http://www.heraldsun.com.au/news/world/china-demands-us-warships-keep-away-from-disputed-south-china-sea-islands/story-fni0xs61-1227354096803?utm_source=feedburner&utm_medium=feed&utm_campaign=Feed%3A%20HeraldSunWorld%20%28Herald%20Sun%20|%20World%20News%29