Days of heavy rain is overworking storm systems in communities across the South, and more rain is in the forecast through the weekend.
One of the most intense situations was at Sam Houston State University in Huntsville, Texas, Thursday night. As much as 14 inches of rain rushed into the recreational center, smashing a glass wall and damaging equipment.
Flooding was reported near the airport in Chattanooga, Tennessee, where 1 inch of rain fell in 23 minutes. Several roads were closed and drivers were stranded on several roads and interstate ramps.
In Tuscaloosa County, Alabama, flooding led rescue crews to retrieve seven people stranded at a mobile home park on Thursday.
"Heavy rain will continue along Interstate 10 through this weekend from San Antonio to the Florida Panhandle. Rainfall amounts will generally be 1 to 3 inches, however, there will be locations that see more than 3 inches of rain and where thunderstorms stall rainfall rates of more than 2 inches per hour are possible," weather.com meteorologist Linda Lam said.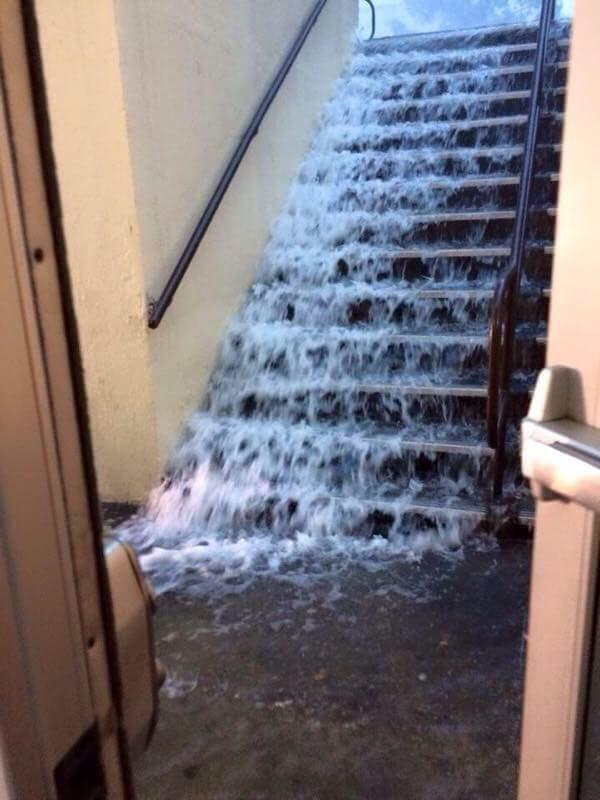 Alabama
A Northport, Alabama, mobile home park was flooded Thursday morning, leaving 7 people stranded and in need of help.
FOX 6 reports that firefighters responded to the call and retrieved all seven residents by rescue boat. No injuries were reported.
A handful of drivers in the Birmingham area were stuck in floodwaters as heavy rain submerged low-lying roads, AL.com says.
Massive sewer overflows have occurred in and around Mobile, Alabama, after the region received a deluge of rain — as much as 10 inches — Monday through Thursday. Just under a million gallons have overflowed into public waterways, including up to 100,000 in Baldwin County's Rock Creek, a popular recreation area, AL.com reported.
The website has a running list of areas affected by the overflow.
Louisiana
More than 1,500 Entergy Louisiana customers were without power Thursday morning, as a result of severe weather across the state Wednesday night, according to the utility's website.
Torrential rainfall led to serious problems in eastern Louisiana Tuesday morning. In areas near Slidell, 3.4 inches of rain fell in one hour, according to local storm reports.
A handful of towns reported street flooding and closed roads, as the heavy rain fell Tuesday morning, all in southern Louisiana.
Tennessee
Flash flooding in Chattanooga on Thursday afternoon closed several roads, including the Cummings Highway ramp to Interstate 24. Cars were stranded on roads near the airport.
Texas
Heavy rain swept into the Abilene area Friday, and water crept into some homes, KRBC News reports. There were also reports of street flooding. Antilley Road, in both directions, had to be closed due to flooding, according to KTXS.
In Huntsville, several streets through campus of Sam Houston State University flooded Thursday due to heavy rainfall. The University urged students to avoid intersections with high water and exercise caution.
KHOU reports that floodwaters rushed into the school's recreational center, which is now closed, and caved in a glass wall.
Falling trees crashed into area homes Thursday and heavy winds left an 18-wheeler overturned.
Original Article: http://www.weather.com/news/news/flash-flooding-heavy-rain-north-west-texas-alabama-gulf-coast